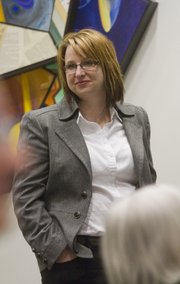 Technology won't kill libraries but rather will make them better, the third and final candidate seeking to become the director of the Lawrence Public Library told a crowd Tuesday.
Jamie Prothro, customer service administrator for the Wichita Public Library, said she thinks books will continue to have a future in libraries but believes technology can open ways for the library to be used.
"We always have to be thinking about bringing cultural relevance to the library space," Prothro said.
She said there are several examples of libraries using technology to make libraries more relevant. Some ideas Prothro talked about with a crowd of about 40 at the library's auditorium included:
• Media pods, where users can enter an area to experience the latest technology has to offer for music and video.
• Mobile phone applications that allow users to check out a book with their phones instead of going through the checkout line.
• Equipping library staff members with tablet devices, like iPads, so they can roam about the library and basically become mobile reference desks.
• Digital download stations that could be placed at locations like a hospital or other busy public locations. The stations would allow users to download content from the library's digital collection, even if they don't have a library card.
"One of the things we absolutely have to think about is how to get the library beyond our walls," Prothro said.
Prothro said she believes discussing branch libraries in Lawrence some day will be important, but she also said technology may make the need for large traditional branches much less likely.
Prothro currently oversees Wichita's nine branch library locations, in addition to the library system's circulation office and interlibrary loan department.
Prothro, who received her master's of library science from Emporia State University in 2003, was the final candidate the library's board interviewed for its director position.
The board is looking to replace Bruce Flanders, who retired in October and took a job with another area library. Board member Joan Golden said the board will likely meet later this week and is expected to make a decision in early March. She expects a new director to be on board in April.
"I think we have some good candidates," Golden said. "I think we have candidates who each have their own unique strengths, and now we need to prioritize what will be best for the library and the community."
Copyright 2018 The Lawrence Journal-World. All rights reserved. This material may not be published, broadcast, rewritten or redistributed. We strive to uphold our values for every story published.