Photo Gallery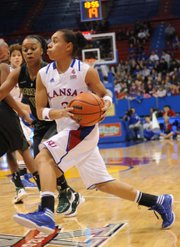 KU women's basketball vs. Baylor
Related document

KU-Baylor women's box score ( .PDF )
This part of the game had nothing to do with Baylor.
Facing the nation's top-ranked team is a hard enough challenge. It was made even tougher in Kansas' 76-45 loss to BU on Friday night when the Jayhawks spent a portion of the first half not knowing what they were doing.
"Offensively," KU coach Bonnie Henrickson said, "(we) just were a mess there early."
On multiple possessions in the first half, point guard Angel Goodrich was left yelling at teammates as KU's players couldn't remember their assignments on plays.
"I think there was a little bit of confusion, because people weren't in the right spots," Goodrich said. "That's just lack of focus. You've got to know what we're running and what we're in."
The miscommunication contributed to one of the ugliest offensive halves in team history.
After a Goodrich jumper with 16:55 left — which also came as the result of a busted play — KU went 8 minutes, 27 seconds without scoring.
The Jayhawks also went 10 minutes, 59 seconds without a field goal.
With six minutes left in the first half, Baylor led 25-3, and the offensive numbers for KU couldn't have been much worse. The Jayhawks were 1-for-17 from the floor (6 percent) with three shot-clock violations and four airballs.
Henrickson estimated that between six and eight of her team's first-half possessions were wasted when KU couldn't get into its offense.
"What you have to accept responsibility and hold yourself accountable for is when we call plays, you've got to know what you're doing," Henrickson said. "You've got to be dialed in and focused."
Aishah Sutherland put in a jumper with 4 seconds left in the half to keep KU from history. The Jayhawks' 16 first-half points were only two more than the least-ever by a Big 12 opponent against Baylor; KU tied that mark last year when it had only 14 first-half points in a 76-37 loss to the Bears on Jan. 19, 2011.
Sutherland, who entered as the team's leading scorer with Carolyn Davis out, struggled with Baylor's size. The 6-foot-2 forward finished with just two points on 1-for-15 shooting. Her previous low for points in a game this season was seven.
"When I saw the stat sheet right now, I was a little shocked. I knew she missed most of them, but I didn't know she went 1-for-15," Goodrich said. "That's just not like Aishah."
Goodrich led KU with 14 points on 5-for-19 shooting.
Forward Brittney Griner paced Baylor (29-0, 16-0) with 20 points on 9-for-14 shooting with eight rebounds.
KU (18-10, 7-9) will play host to Oklahoma State at 7 p.m. Wednesday on Senior Night.
Copyright 2018 The Lawrence Journal-World. All rights reserved. This material may not be published, broadcast, rewritten or redistributed. We strive to uphold our values for every story published.