Photo Gallery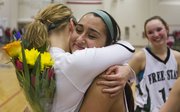 Free State girls vs. Olathe North
Playing on head coach Bryan Duncan's 39th birthday, the Free State girls raced to a fast start, did their best to help Duncan age during the middle portion and finally calmed down enough to cruise to a 62-46 Senior Night victory over Olathe North.
A couple of hours later, the Free State boys sent six seniors out with a 66-54 victory that was far more convincing than the final score suggests.
In the girls game, the Firebirds (13-5) turned up the tempo from the start and outshot the Eagles 58 field-goal attempts to 39. Behind intense pressure defense and a bunch of easy transition buckets, FSHS built a first-half lead of as many as 15 points (31-16) before the Eagles began to chip away. By halftime, O-North had trimmed the Free State lead to seven, 33-26. Four minutes into the third quarter, the lead was down to a point at 36-35.
"We went with a high-risk, high-reward style tonight," Duncan said. "We got a ton of layups because of it, but, at times, I thought we were actually a little too aggressive, and that led to some easy points for them, as well."
With their lead — and the game — in jeopardy, the Firebirds turned to one of their three seniors for a little help. Guard Lynn Robinson (14 points) scored seven straight points to help Free State re-establish control. That allowed the rest of her teammates to relax and paved the way for a 20-point night from junior Kennedy Kirkpatrick.
Kirkpatrick gave credit for the victory to all three FSHS seniors.
"Jackie (Garcia) and Lynn are two of our main contributors, and they definitely showed that tonight," Kirkpatrick said.
How about senior reserve Baha White, who played a couple of minutes in the first quarter and then cracked the scoring column with a free throw in the fourth?
"She brought great energy tonight," Kirkpatrick added. "I don't think anyone would've been able to tell the difference between her and our starters. She played well."
So, too, did Garcia and Robinson, both three-year starters who have racked up a lot of great memories in the Free State gym.
"They both had a little extra in their step tonight," Duncan said. "They've been a joy to coach."
Robinson, who first and foremost was thankful for Friday's victory, turned sentimental when reflecting on the past three years.
"I feel like I've been here awhile, but I also feel like I have more years left," she said. "Getting a win on senior night was great, and I think the best part of my whole experience here was getting to know all the girls I've played with and becoming best friends.
Copyright 2018 The Lawrence Journal-World. All rights reserved. This material may not be published, broadcast, rewritten or redistributed. We strive to uphold our values for every story published.