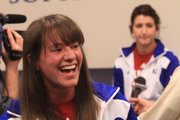 Good news for the Kansas University softball program: Junior Maggie Hull brings her .346 batting average, 14 doubles, nine home runs and 49 RBIs back to the lineup. Even better news: With three new pitchers on board, the Jayhawks are confident they have a better shot of turning all the runs she generates into victories.
"Pitching is a big part of the game," Hull said. "We definitely saw that last year in games. We were putting up five, six, seven or more runs and still losing. That's frustrating. This is the first year our pitching is going to meet our offensive production."
The Kansas pitching staff had the most walks, fewest strikeouts and second-worst ERA in the Big 12 last season. Third-year head coach Megan Smith is counting on three pitchers to turn Hull into a prophet.
Freshman Alicia Pille from Royse City, Texas, earned District 13-4A MVP honors after amassing 16 shutouts, nine no-hitters, three perfect games and 431 strikeouts as a senior, when she compiled a 0.32 ERA.
Morgan Druhan transferred to Kansas from South Alabama, where she went 10-6 with a 2.77 ERA and 143 strikeouts in 1161⁄3 innings last season.
Emily Stokes, a freshman from Hamilton City, Calif., struck out 1,331 batters as a four-year all-league selection.
Smith expressed excitement about Druhan because "she brings experience, poise and confidence." But Pille is expected to be the team's ace.
"Alicia Pille looks phenomenal right now," Smith said. "You're going to hear that name a lot, I suspect. She has looked really good in practice. She's a dominant pitcher, and she's a bulldog in the circle, and that's what we need. We're excited how deep the pitching staff is, how dynamic. That's what we've lacked the last two years."
Hull expressed similar sentiments.
"I'm confident in the pitching because we have a great freshman in Alicia Pille," Hull said. "She and Megan Druhan are both players who are going to come in and dominate."
Stokes might not be as ready for the big-time as Pille, but Smith likes what she has seen so far.
"She has done a lot this fall to improve and is mixing speeds, kind of understanding what it means to be a college pitcher," Smith said. "She's a power pitcher as well."
The added pitchers will help to compensate for losing the many talents of Alex Jones, a center fielder, leadoff hitter and pitcher. Jones will red-shirt this season because she suffered a torn ACL in the fall.
Smith hopes an improved pitching staff will for the first time during her tenure vault Kansas out of the cellar in the Big 12, which has gone from 10 to nine teams with the departure of Nebraska. KU went 21-35 overall and 2-16 in conference in 2010, 31-22 overall and 2-16 in the Big 12 last season. The Jayhawks were 0-6 in one-run conference games last season.
The Big 12 schedule gets even tougher for KU. Instead of playing nine conference teams twice, everyone plays eight conference foes three times, expanding from 18 to 24 league games. Three-game weekend series become the norm.
"I honestly don't know what to expect, but I do know it's a horrible feeling splitting with a team," Hull said. "It gives us one more chance to prove ourselves."
KU opens its season Friday in Hammond, La., with games against Tennessee-Martin and Troy, the start of a weekend tournament in which it is scheduled to play five games. The Big 12 portion of the schedule opens in Columbia, Mo., with a three-game series against Missouri, March 16-18.
Copyright 2018 The Lawrence Journal-World. All rights reserved. This material may not be published, broadcast, rewritten or redistributed. We strive to uphold our values for every story published.