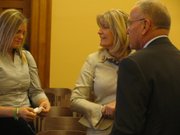 Related document

Senate Bill 342 ( .PDF )
Topeka — Carie Lawrence, the grandmother of 5-year-old Cainan Shutt, who was killed in a traffic accident on Kansas Highway 10 last year, urged legislators on Wednesday to approve a bill that would double fines on the highway.
Before the accident last year, "We had a good life," Lawrence said. Now, she said, the family is devastated.
"You can make a difference," Lawrence told the Senate Transportation Committee. "Pass this bill."
Cainan's mother, Ali Shutt, sat in the audience. She had planned to speak to the committee, but her emotions took over and she couldn't bring herself to talk. After the hearing, the committee took Senate Bill 342 under advisement.
The measure would allow the Kansas Department of Transportation to designate safety corridors on busy stretches of roads that have numerous crashes.
In those corridors, signs would be posted warning motorists that traffic fines for moving violations would be doubled along the route. The additional funds collected from the fines would be turned over to the state for enhanced enforcement, signing, education and other safety strategies along the corridors.
KDOT proposes designating K-10 and U.S. Highway 54 through Wichita as safety corridors.
Last April, a car driven by 24-year-old Ryan Pittman crossed from the eastbound to westbound lanes on K-10 near Eudora and struck a minivan in which Cainan was riding. Both Pittman and Cainan died. A toxicology report indicated that Pittman tested positive for a therapeutic level of methadone, an elevated level of tramadol and the active components of marijuana.
The accident spurred KDOT to move forward with a plan to install cable-median barriers.
But Eudora Mayor Scott Hopson said more was needed to slow down motorists on K-10.
Passage of the bill "is very important to our community," Hopson said.
He said it is common to see motorists driving 80 mph and 85 mph on K-10. And, he said, many are inattentive because they are texting. He said that while riding his motorcycle on K-10 he had been run off the road several times by motorists.
Hopson said that because K-10 is such a wide and smooth highway, drivers get lulled into a false sense of security.
State Sen. Tom Holland, D-Baldwin City, testified for the bill, saying it "will ultimately save lives."
Jerry Younger, deputy secretary for KDOT, said safety corridor programs in other states have reduced crashes and fatalities. Between 2002 and 2007, there was a 42.3 percent decrease in crashes in New Mexico's Safety corridors, he said.
State Sen. Les Donovan, R-Wichita, said that while improvements to U.S. 54 have been welcome, the accidents have become "horrific."
"I think this is a long time coming," Donovan said of the bill.
State Sen. Mike Peterson, R-Wichita, said he thought the program would be more effective if it designated specific areas as safety corridors instead of long stretches of road. He said a safety corridor along Interstate 40 in New Mexico "appeared to be there just for the collection of revenue."
Tom Whitaker, executive director of the Kansas Motor Carriers Association, said the bill should only double fines for speeding and not other moving violations.
And he said the bill should limit KDOT to designating no more than three safety corridors until the agency determines whether the program is effective in reducing crashes.
Copyright 2018 The Lawrence Journal-World. All rights reserved. This material may not be published, broadcast, rewritten or redistributed. We strive to uphold our values for every story published.