Photo Gallery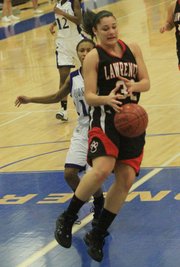 LHS girls vs. Leavenworth
Leavenworth — Lawrence High junior Anna Wright didn't celebrate her 17th birthday in traditional fashion Tuesday night.
But a 39-32 Lions road victory over Leavenworth turned out to be a pretty nice gift for the occasion.
Wright was the star on her birthday, scoring a team-high 16 points, while securing nine rebounds and dishing out five assists for Lawrence (6-7).
Her coach, Nick Wood, said her shooting — Wright made all three of her three-point tries and went 4-for-8 from the field — forced the Pioneers to come out and defend the perimeter.
"It was a heck of a birthday for her," Wood said.
Because it was her big day, Wright said, she was especially honed in for the road test against the Pioneers (5-8).
Wright said the win was a team effort, and Wood agreed, but the coach said the 5-foot-7 guard had a lot to do with the Lions' success.
"When she's making shots, when she's penetrating and creating for other players," the coach said, "that helps us out tremendously and we're definitely proud of the way she played."
Along with Wright, two other Lions carried the scoring load in the seven-point victory that was marred by a right-knee injury to junior Krista Costa in the first quarter. Junior Monica Howard finished with 10 points and five rebounds and junior backup Bri Anderson went for seven points and three boards.
At 5:30 p.m. Friday, the Lions play at Shawnee Mission East.
Copyright 2018 The Lawrence Journal-World. All rights reserved. This material may not be published, broadcast, rewritten or redistributed. We strive to uphold our values for every story published.