Holiday meals
Church of Jesus Christ of Latter-day Saints volunteers are scheduled to serve a Christmas Eve lunch from 1-2 p.m. in the LINK dining room, located in the basement of First Christian Church, 1000 Kentucky St.
On Christmas Day, First United Methodist Church volunteers will serve the LINK meal in their own church, 946 Vermont St.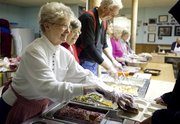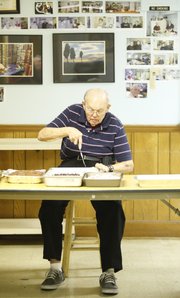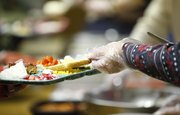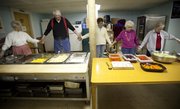 In a way, a hot lunch at the Lawrence Interdenominational Nutrition Kitchen is like the biblical story of the loaves and the fishes.
Things don't always go exactly as expected, but somehow there's enough food and help to go around every time.
However, it's not a miracle that makes all that food appear in the LINK dining room four times every week. It's an army of dedicated church members like the ones at West Side Presbyterian, better known around LINK as "the meatloaf people."
One Thursday a month, West Side members organized by Connie Ducey cook, deliver, serve and clean up a dozen 4-pound homemade meatloaves with potatoes, vegetables, bread, Jell-O salads and cakes to make a full meal for anyone who might show up to eat. This month, West Side doled out 168 meals.
"There just always seem to be people willing and able to step up and do what needs to be done," Ducey said. "It is such a group effort."
LINK has been providing meals since 1985, and West Side is among churches that have been serving from the beginning. LINK's goal is to provide a safe place for anyone who's hungry or lonely to share a free meal, served in the basement of First Christian Church, 1000 Kentucky St.
Regular guests know the schedule, and there are usually more diners than usual on West Side's designated day, LINK director Greg Moore said.
Count Jerry Nyhoff in the meatloaf fan club.
"When West Side Presbyterian does it, that's when you want to come," he said. In addition to the meatloaf, he especially likes a particular Jell-O salad filled with berries that's usually on the table, too.
The volunteers are kind to everyone and always seem to make an effort to interact with guests, Nyhoff said. "They're really generous that way."
There's even more going on behind the scenes.
l l l
Shortly before West Side's most recent meal, 14 members were preparing their stations on the buffet line while others were in the kitchen pulling hot food off the stove and tossing green salads in bowls as big around as tires.
Members circled for a blessing with guests who wanted to participate, then wave after wave made its way through the line before a few more waves came through for seconds.
West Side member Leland Perry, the crew's designated meatloaf runner, scurried back and forth from the kitchen to the serving line — piping-hot meatloaves out of the kitchen, empty pans in.
Arden Burgess, the "cake man," sat on a stool, offering guests their choice from the six pans in front of him — two of which he baked himself, as he always does.
German chocolate always seems to go first, so Burgess is sure to bake at least one each time.
"They like German chocolate," Burgess said.
Charline Freitag helps in the serving line and has been baking meatloaves each month for years — during which the cost of the recipe's 4 pounds of beef has gone up notably.
She's had some guests tell her it's their favorite LINK meal or that it reminds them of their mother's cooking.
"I think it's a good way to share God's love with people who need help," Freitag said, adding, "I think it's worth our time and effort."
l l l
Ducey begins talking to volunteers at church on Sunday for that Thursday's meal, then makes calls throughout the week.
She must round up enough people to cook the food — usually one meatloaf or side dish apiece — and arrange for all of it to get to LINK in time for lunch. Bakers who work during the day might drop it off at West Side Presbyterian, 1024 Kasold Drive, for Ducey and her husband to pick up, or cooks who can't drive might need someone else to pick up food at their homes.
Ducey also signs up enough volunteers to prepare, serve and clean up at LINK. Once in a while, she said, strangers show up to help, and she always finds a job for them.
West Side's last meal appeared to run like clockwork, with none of the chaos one might imagine comes with throwing a dinner party for 150 — a number amply larger than the "little church with the big heart's" entire membership, according to its website.
LINK lunches are ingrained enough in West Side's community that volunteers have it down to a routine, Ducey said, noting that she's even had regular meatloaf bakers who know they'll be on vacation during the next lunch make their dish early and leave it in the church freezer.
There's always last-minute twists and turns, though, and Ducey said the job of organizing can be more stressful than it looks.
"I get to the point I doubt my sanity sometimes," she said. "But it always works out."
Ducey's pre-meal blessing included everyone involved in that day's LINK version of the loaves and the fishes.
"Bless this food," she said. "Bless those who have prepared it and those who serve it, and those who will eat."
Copyright 2017 The Lawrence Journal-World. All rights reserved. This material may not be published, broadcast, rewritten or redistributed. We strive to uphold our values for every story published.