Photo Gallery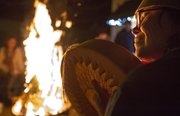 Drum circle at The Percolator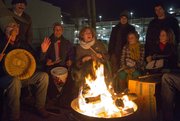 So it turns out the world didn't end Friday.
But the absence of an apocalyptic cataclysm didn't stop Lawrence residents from observing the end of an era.
Numerous bars, including the Jazzhaus and Replay Lounge hosted end-of-the-world-themed bashes Friday. House parties were thrown.
For some, the supposed end of times served as merely a reason to drink. For others, like the crowd that gathered at The Lawrence Percolator, 913 Rhode Island St., it was a time of reflection.
With the new exhibit "The Baggage Show" that opened Friday night, organizers wanted to let people deposit the worries of the past and contemplate what they wanted to carry with them.
"It's a way of going into the future," exhibit organizer Laura Ramberg said. "It's a new age ­— come on get with it."
Local artists' representations of their baggage adorned the walls. Event-goers were encouraged to write down the worries they wished to leave behind onto cards to be burned either in a bonfire outside or in a six-foot-long cardboard Viking boat when the exhibit ends Jan. 20.
Ramberg said that the exhibit and celebration was not about the end of times but of the beginning of a new era and new year.
Eric Farnsworth, who spent 12 hours building the boat, agreed that the event served as a good way of taking stock of oneself at the end of the year.
The evening ended with a drum circle.
"We are celebrating being around. It's amazing" Doug McKean, of Lawrence, said with a laugh.
Copyright 2018 The Lawrence Journal-World. All rights reserved. This material may not be published, broadcast, rewritten or redistributed. We strive to uphold our values for every story published.