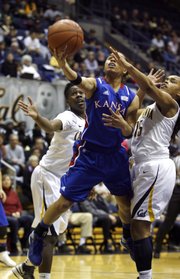 Related document

KU-Cal women's box score ( .PDF )
Berkeley, Calif. — Layshia Clarendon scored a season-high 28 points, one of five California players in double figures, and the eighth-ranked Golden Bears beat No. 19 Kansas, 88-79, on Friday night.
Gennifer Brandon added 17 points and 10 rebounds for the Golden Bears (9-1), who matched the best start in school history. Talia Caldwell made all five of her shots and had 12 points. Reshanda Gray added 13, and Afure Jemerigbe scored 10.
Angel Goodrich had 21 points to lead the Jayhawks (9-2), who were playing their third road game. Carolyn Davis added 16 points, Natalie Knight had 13 and Chelsea Gardner 12.
Brittany Boyd sank a layup in the final seconds of the first half, giving Cal a 42-35 lead at the break. It was the most points allowed by Kansas in a half this season.
"Watching (Cal) on film and seeing them in person, it is who they have been all year," KU coach Bonnie Henrickson said. "Our post defense was poor and our defense keeping the ball from getting inside was just as bad. When you play a team of this caliber on the road you have to survive their runs and answer them with your own."
The Golden Bears, who have started the same five players in every game, used an 11-0 run to overcome a strong Kansas start and open a seven-point edge.
Both teams shot better than 50 percent in the first half. Cal took advantage of its 12 offensive rebounds for a 16-6 advantage in second-chance points.
Kansas played its 94th game against a Pac-12 opponent, although 88 have been against former Big 12 rival Colorado. The Jayhawks have played Cal more often than any other Pac-12 foe aside from the Buffaloes.
The Jayhawks, who last played the Bears five years ago, fell to 2-19 under coach Bonnie Henrickson against teams ranked in the Top 10.
The Jayhawks will break for the holidays, then host Kansas State at 7 p.m. on Jan. 2 at Allen Fieldhouse.
Copyright 2018 The Lawrence Journal-World. All rights reserved. This material may not be published, broadcast, rewritten or redistributed. We strive to uphold our values for every story published.