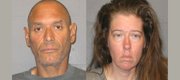 A 52-year-old Northlake, Ill., man pleaded no contest Friday morning to five crimes stemming from a June 13 incident in which two of his children were found bound by their hands and feet in a Lawrence Walmart parking lot.
As part of a plea agreement with prosecutors, Adolfo Gomez pleaded no contest to two counts of child abuse — both felonies — and three misdemeanor counts of child endangerment.
The plea comes a week after Gomez's wife, Deborah Gomez, 43, pleaded no contest to three counts of child endangerment.
Prosecutors and Adolfo's attorney will recommend Adolfo be sentenced to 30 months in prison for the crimes at sentencing, scheduled for Feb. 8.
Both Deborah and Adolfo have been in custody since their arrests June 13. Douglas County prosecutors said the children have been placed in protective custody.
As part of Deborah's plea agreement, prosecutors will recommend she be sentenced to a year of probation.
At Deborah's plea hearing Dec 14, Douglas County District Judge Paula Martin — lifting a no-contact order — also opened the door for Deborah to have contact with her five children, ages 5, 7, 12, 13 and 15. That decision, however, will be made by another judge in the custody case.
The 5- and 7-year-old were found bound outside the family's van, while the other children were inside the vehicle, unbound. Testimony at prior hearings indicates the family was in Lawrence on its way from Illinois, heading to Arizona.
Police used a Taser on Adolfo, who was uncooperative during the arrest. At previous hearings, Adolfo testified that he and his children were fearful of demon possession. In June, Martin declared Adolfo competent to stand trial.
Adolfo, echoing his wife's statements at her plea hearing, said, "I don't want to put my children through any more."
The two felony child abuse charges Adolfo pleaded to Friday carry maximum penalties of up to 50 months each, based on his criminal history. Adolfo's court-appointed attorney, Skip Griffey, said they'll need to file a motion asking Martin for a reduced sentence in the case to obtain the recommended 30-month sentence.
"I think the recommendations that are on the record are a fair and equitable resolution," Griffey said following the hearing.
Adolfo will also be required to undergo a mental health examination. Griffey talked about some of the events leading up to the arrests.
Adolfo hadn't slept in days and was experiencing some mental health problems, Griffey said.
A spokeswoman for the Douglas County District Attorney's Office declined comment because the children's custody cases are still active.
Copyright 2018 The Lawrence Journal-World. All rights reserved. This material may not be published, broadcast, rewritten or redistributed. We strive to uphold our values for every story published.