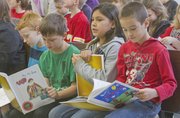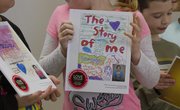 Hundreds of students at Prairie Park School got to experience a thrill this week that many struggling adult would-be authors only dream of: that day when a package arrives from the publisher containing the first hardbound copies of their books.
For these students, though, it was an even bigger thrill because they got to share the experience with all of their classmates during an assembly Tuesday morning when all the books arrived.
"We're going to spend a good amount of time today just reading each other's books and looking at them," said Erica Seals, the third-grade teacher who coordinated the project.
The books were printed and bound by Studentreasures Publishing, a Topeka-based company that seems to have found a unique niche in the world of children's literature.
Chad Zimmerman, CEO of the company, said the idea is to give every student a free copy of his or her own book.
"The only thing we ask is that they let parents know that they can buy reprints," he said. "So the first copy of the books, what you see the kids walking away with, those are all free. .... And it turns out we get enough parents interested in buying reprints of the books that it's a pretty good business."
Zimmerman said the company has been at it for 19 years and just recently printed its 10 millionth free book.
"We do about 1.1 million or 1.2 million (copies) a year in free books," he said.
For students, though, Seals said it's also a unique educational experience because it leads them through the entire process of creative writing, from brainstorming ideas to seeing their work published, while also reinforcing basic elements of sentence structure, grammar and vocabulary.
"We tried to have them use some big words, some words that third-graders might not typically use, but try to be creative about writing and sentence structure and things like that," she said.
Kindergarten, first- and second-grade classes also participated in the project, Seals said, although they wrote single "class" books that contained shorter works from each of the students.
In third grade, though, each of the students wrote their own work. Some wrote poems. Others wrote about their families. And some wrote their own works of fiction, starting with a prompt that helped them get past that initial phase of asking, "Gee, what should I write about?"
For example, one of the prompts was about seeing a woman on a bus who tries to stop the student and ask a question. Seals said it was interesting to see the different directions students would go from there.
"One student kind of had a creative ending; it started out with the woman talking to them and trying to get their attention, and it ended up they lost their cellphone, which seems kind of silly, but through the end of the story it was really quite creative for that student who came up with lots of good ideas."
At this point, it may be hard to tell who among the students might develop into the next best-selling author, but Seals said there are at least a few prospects in the group.
"A couple of students really put forth the effort," she said. "The students knew the effort they put in was going to be the effort they got out of it. So the ones who really put forth an effort had lots of color on their books, lots of neat writing and using proper language and sentence structure."
Copyright 2018 The Lawrence Journal-World. All rights reserved. This material may not be published, broadcast, rewritten or redistributed. We strive to uphold our values for every story published.