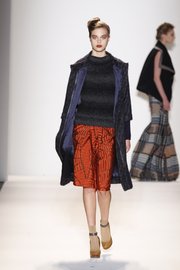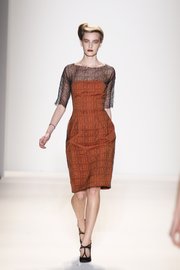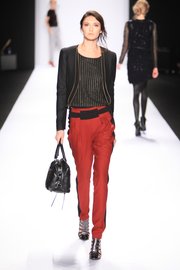 For some reason, I've always been attracted to the cooler end of the color spectrum.
When I look through my closet, I see mostly hues of green, blue and brown; hardly any red, orange or yellow.
When the Pantone Color Institute predicted Tangerine Tango as the hottest color of the 2012, I have to admit, I was skeptical about the industry's ability to pull it off in a variety of different styles among a slue of different designers. Its only saving grace, I thought, was that it was bright and bold and memorable.
Not surprisingly, I'm a big fan of bright color and crazy prints, and I love when designers incorporate hodgepodge, mishmashes of patterns and textures in their collections.
After my initial disappointment with Pantone's predicted color of the year, I fantasized how this bright orange hue would influence clothing designs. To my surprise, not only has it completely taken over the clothing industry, this color has overwhelmed home décor as well.
We've seen plenty of color blocking, loads of vintage prints and some stellar sheer textures that use bright orange this spring and summer. However, as summer moves into fall, look for Tangerine Tango to take on a deeper, more appropriate shade for the season. In fall 2012, burnt orange will join Tangerine Tango as one of the most popular tints of the year.
Designers like BCBG Max Azria have been rolling out their fall collections on the runway featuring neutrals like black, brown and ivory matched with the bright oranges we have been seeing all year along with abundantly more burnt orange tones.
For a muted, conservative look, do what BCBG did and pair burnt orange with a variety of neutrals — gray, black, brown or cream.
However, if you're apt to wear more exuberant outfits, match burnt orange with teal or grassy green. For a balance between the two looks, try using teal or grassy green as a simple accent to a burnt orange/neutral-colored outfit. Incorporate burnt orange into current trends like colored, fitted pants and wedge heels for a warm, fall uniform.
Look for burnt orange in home décor items as well. This particular color lends itself well to creating vintage-y concepts, especially when paired with Robin's Egg or Tiffany Blue.
Geometric patterns will remain popular for home décor accessories as well. If you have a primarily industrial philosophy of design, pair geometric patterns and metal design elements with splashes of burnt orange. For a cozy, homey atmosphere, pair burnt orange with other warm tones.
If you haven't gotten into the Tangerine Tango trend yet this year because it's too bright for your taste, try out a deeper burnt orange color for a new piece or two in your wardrobe this fall.
Copyright 2018 The Lawrence Journal-World. All rights reserved. This material may not be published, broadcast, rewritten or redistributed. We strive to uphold our values for every story published.