When Mrs. E's general manager Mark Maranell gets to work in the morning, he first touches base with staff and checks on breakfast. He deals with any issues from the previous night's meal and then begins to prepare for the future.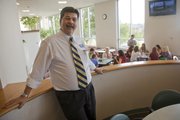 Tons of stuff to eat
With more than 3,200 students to feed daily, Mrs. E's orders tons of food each year:
Hamburgers: 20,280 pounds
Shredded mozzarella: 17,700 pounds
Tomatoes: 17,575 pounds
Chicken tenders: 15,900 pounds
Romaine lettuce: 11,500 pounds
Fresh strawberries: 3,600 pounds
Ketchup: 24,000 gallons
Ranch dressing: 960 gallons
Preparation is an important part of the job for every person on staff at Mrs. E's, especially considering they serve more than 3,200 students per day during the academic year.
Maranell said Mrs. E's serves more than 30 recipe items each day, so to make a proper amount of food, the staff must make some educated assumptions on how much of each menu item students will consume and then have it ready by the time the dining hall opens.
"The staff of a facility are really the unsung heroes. They have three deadlines to meet with quality and quantity and we just couldn't do without them," Sheryl Kidwell, assistant director of KU dining services, said.
The work to feed students begins with Maranell creating a menu.
Mrs. E's uses a computerized menu management system to store recipes and create menus. Maranell selects recipes from a collection of over 3,000 to put on the menu, and the menus are put on a five-week rotation.
"I try to make sure we have a good variety of popular items, of health items and not too much repetition," Maranell said.
Popular items include hamburgers and chicken tenders. Mrs. E's uses more than 10 tons of hamburgers and 8 tons of chicken tenders a year.
No matter the amount of menu planning and preparation, there are sometimes problems that arise in the dining hall.
There have been power outages on Daisy Hill as well as water line breaks in front of Lewis Hall. and it is Maranell's job to find a way to still feed students.
"We try to figure out what we can do and if there's some way we can meet part of that need rather than not meet it at all," Maranell said.
Serving a meal when there is an issue like a power outage means making sack lunches for students and the staff being flexible with the menu, but dining services is dedicated to making the students they feed happy.
"The customer is No. 1, and we understand that and work to make important decisions on their behalf," Kidwell said.
— Staff intern Meagan Thomas can be reached at 832-6342.
Copyright 2018 The Lawrence Journal-World. All rights reserved. This material may not be published, broadcast, rewritten or redistributed. We strive to uphold our values for every story published.