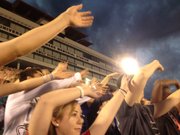 Hundreds of freshmen piled into Memorial Stadium for Kansas University's Traditions Night on Saturday to socialize with their new Jayhawk comrades and learn the rituals of KU's sporting events.
"I think it's a good way to get involved and find out about Kansas," said Jake Bruce, a freshman from Chicago. "I don't really know much about it."
Lucky for Bruce and other freshmen, Chancellor Bernadette Gray-Little, KU football coach Charlie Weis and others were on hand to help out.
"Jayhawks have a lot of great traditions," said Mike Anderson, host of the event, as well as the local television show "The Not So Late Show." "Tonight we're going to teach them to you."
KU band members, the dance team and cheerleaders presented how to properly wave the wheat, sing the Rock Chalk chant, sing the alma mater and master the seemingly tricky claps to the fight song.
But the night wasn't only about traditions — it was also about giving the new students some advice.
"Go to class," Gray-Little said, addressing the crowd. "Talk to your professors, join clubs and activities, and go to class."
Weis pounded home the point.
"I can't think of a more important piece of advice."
For at least one freshman, Chris Chipman, of Kansas City, Kan., the event also served as a way to help college sink in.
"I think it is kind of exciting," he said. "It makes me feel out of high school."
Copyright 2017 The Lawrence Journal-World. All rights reserved. This material may not be published, broadcast, rewritten or redistributed. We strive to uphold our values for every story published.