Kansas University soccer coach Mark Francis didn't have to spend a long time in the offseason coming up with ways the Jayhawks could improve upon their 11-9-1 record in 2011.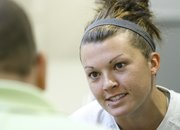 A pair of numbers from KU's season totals made the equation simple.
"We scored 46 last year; we let in 46," Francis said. "You do the math."
His team's need to improve defensively served as just one of several topics discussed Thursday at Allen Fieldhouse as members of the Kansas soccer, volleyball and cross country teams congregated for media day.
Francis said the Jayhawks have enough versatility that other teams shouldn't be able to shut them down. So the focus for KU, which returns 10 starters from last season, has been turning its defense from a hindrance to a weapon.
Even though last season ended with Kansas making it to the NCAA tournament, where it lost 2-0 in the first round to Georgia, senior midfielder Whitney Berry said those 46 goals allowed have reminded the players they are capable of much more.
"Forwards, midfielders, defenders — we all need to do a better job," Berry said.
Last year's defense, Francis said, could have been held back by its youth, with four of KU's five players coming in new. Now Kansas has added Cassie Dickerson, a transfer from Ohio State, in the back. Dickerson was a first-team All-American as a senior after helping the Buckeyes to their first Final Four appearance in 2010.
As KU has prepared for its season opener (5 p.m. today at Jayhawk Soccer Complex against UC-Santa Barbara), Francis said the defense appears more organized and solidified.
"They're not making the same mistakes as they were in the preseason last year," he said.
Volleyball team needs to win close matches
When Ray Bechard thinks about his volleyball team's 15-14 season in 2011, he is convinced a play here or there would have significantly changed the Jayhawks' fortunes.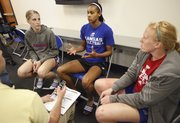 "We know as a program we were probably one good win away from an NCAA tournament bid, and we can isolate two or three matches where we had the opportunity to do that," the 15th-year KU coach said. "You've really got to take a close look at everything you're doing from top to bottom. Where you might be able to gain an inch or two per play, per set, per match is where you can make that difference."
Tayler Tolefree, a senior middle blocker from Lawrence High, said each player remembers mistakes she made last season that cost KU.
"We had some really disappointing times in the locker room," Tolefree recalled.
If Bechard wants to lead KU to the NCAAs for the fourth time (Kansas last went in 2005), he said the Jayhawks can't afford two-point losses in tight games, which cost them against Texas A&M;, Oklahoma and Kansas State last year. With some minor adjustments, he said, "we're convinced we can grab the number of inches we need to in order to make those big matches fall our way."
Senior defensive specialist Morgan Boub said "one more" has been the team's rallying cry — "What can we do one more than anybody else?"
That began with the team's on-campus retreat. The Jayhawks went through some Marine-style training with the purpose of becoming mentally and physically tougher. Boub said if each player commits to taking one extra step toward getting better, it will add up.
"I think that's a really good mentality for us," she said.
The Jayhawks' season begins Aug. 24 against Northwestern State, at Fayetteville, Ark.
Wasinger returns for cross country men
Don't get KU assistant cross country coach Michael Whittlesey wrong. The Jayhawks missed Donny Wasinger, an All-Big 12 runner, last year after he tore his achilles.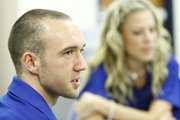 "We could've been a lot better with Donny out there," Whittlesey said of the now fifth-year senior who took a medical red shirt, "but in a lot of ways it helped the team become a lot better."
The boost from Wasinger's absence, the coach hopes, will come this year.
"The younger athletes, they had to step forward," Whittlesey said of 2011.
Josh Baden became one of the team's top runners, and Josh Munsch, Reid Buchanan, Evan Landes and James Wilson gained experience as underclassmen. What's more, Whittlesey said the returning runners have shown real commitment.
"We have three of four guys this year who believe they can push Donny and run with Donny," the assistant coach said. "His role of being a number one runner is not guaranteed."
The KU women, meanwhile, will be younger this season after losing three key seniors from a year ago. Whittlesey said the team has no clear-cut No. 1 runner and returners such as Tessa Turcotte and Kyra Kilwein (a Free State graduate) will be helped out by some new teammates.
"We've brought in a good group, a nucleus of six freshmen," he said. "Any one of them, I feel, can have an impact this year, if not multiple (runners)."
Lacking a standout leader, Whittlesey said KU will need to run close together and develop depth.
"The reality is we need seven to eight (options)," he said, "because at any point one of the top five could have an off day."
KU's cross country teams make their season debut when they play host to the Bob Timmons Classic on Sept. 1 at Rim Rock Farm.
Copyright 2018 The Lawrence Journal-World. All rights reserved. This material may not be published, broadcast, rewritten or redistributed. We strive to uphold our values for every story published.