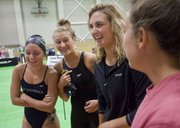 For more than a decade, sisters Reese Edwards and Phoebe Grabill have been teammates with the Lawrence Aquahawks.
Since their mother, Megan Edwards, started them in the program, they have been through it all together: practices, road trips, big meets, more practices, victories and even some emotional sniffles.
But this weekend, the USA Swimming Senior Central Zone Championships marks the end of that era in their lives. Edwards, two years older than Grabill, is swimming her final meet with the Aquahawks. Thursday was her last practice, and within two weeks the Bishop Seabury Academy graduate will be off to DePauw University in Greencastle, Ind., to start her college swimming career.
"It was kind of weird to think that I'm not going to be driving her (Grabill) to practice every morning," Reese Edwards said Friday at the Lawrence Indoor Aquatic Center, where she watched her younger sister finish second in the 400-meter individual medley and take third in the 100 fly.
Edwards was supposed to swim in the 100 fly, too, but a miscommunication between herself and Aquahawks coach Justin Clossen led to Edwards' unintentionally getting scratched from the event prelims after she failed to realize she was supposed to compete in the 200 free (meet rules stated anyone scratched from one event couldn't swim in another the same day).
Grabill couldn't help but laugh at her sister's blunder.
"She wasn't complaining about it," Grabill said. "She's ready to be off in college."
The sisters helped establish the girls swimming program at Seabury this past year, and the Seahawks finished fifth at the Class 5-1A state meet. Now that their days as teammates are nearly done — both are scheduled to compete together one final time today — Grabill won't have Edwards around for her junior high school season, either. The younger sister described her growing sentiment regarding their split as sad.
"We've grown really close this past year," she said.
Edwards started swimming with the Aquahawks at 6, and Grabill joined soon after at 5. Back when they were younger, Edwards provided Grabill with emotional support as they traveled and competed at meets. But perhaps their most memorable moment came years later. At their most recent sectional competition, Grabill approached Edwards with tears running down her cheeks.
Edwards had no idea what was wrong.
"Reese, I got it," Grabill told her after making the junior nationals cut in the 200 fly.
"That was really special for me," Edwards recalled.
The two agree they are different swimmers — with Grabill competing in more long-distance events — but Edwards will miss their time together and said she might have to recruit Grabill to join her at DePauw.
Grabill responded as only a younger sibling could.
"We'll see about that. I'm not sure," the 16-year-old said. "I love her to death, but we've definitely been together for a long time."
The sisters saw teammate Ben Sloan win the 100 fly Friday night with a time of 58.23. The three will be joined by fellow Aquahawk Eliza Anderson in competition today. Prelims begin at 9 a.m. and finals start at 5:30 p.m.
Copyright 2018 The Lawrence Journal-World. All rights reserved. This material may not be published, broadcast, rewritten or redistributed. We strive to uphold our values for every story published.