Photo Gallery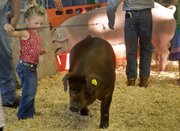 Douglas County Fair, Aug. 1, 2012
A 4-H swine show, petting zoo and several other events and activities were in full swing Wednesday, Aug. 1, 2012 at the Douglas County Fair.
Squeals, laughter and organized chaos: This is the best way to describe the Pee Wee Swine Showmanship contest at the Douglas County Fair.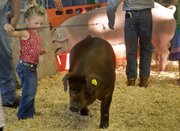 Thirteen children, ages 7 and under, turned out Wednesday night to do their best at herding a pig around the show barn.
"They just go in there and chase them around," said Mike Dreiling, whose daughter Alyson participated with her pig, Spotty.
Alyson, 7, didn't have the easiest time moving Spotty — at 250 pounds the pig is five times her size — but that's OK with her because they are friends.
"I like him a lot," she said.
County 4-H members were on hand to help out the youngsters and make sure nothing got too out of hand.
The show, now in its third year, might be a fun event for the children but, according to Grant Metsker, 4-H swine superintendent, it's also a good way to get kids involved with livestock early.
"Without peewees we'd have less younger kids showing pigs," Metsker said.
Copyright 2018 The Lawrence Journal-World. All rights reserved. This material may not be published, broadcast, rewritten or redistributed. We strive to uphold our values for every story published.