Kansas lost to Iowa State, 10-9, Saturday afternoon at Arrocha Ballpark, despite Jayhawk freshman Maddie Stein's career day.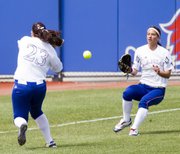 Stein hit the first two home runs of her college career to help KU to an 8-3 lead by the fourth inning, but Iowa State scored seven runs in the last two innings to win by one.
A single, an error and a walk loaded the bases in the top of the fifth inning for Iowa State's Erica Miller, who hit a two-run double to cut the Jayhawk lead to three, 8-5. Freshman pitcher Alicia Pille entered the game and gave up back-to-back singles, cutting the lead to one, 8-7.
ISU (14-29, 2-12) led off the sixth inning with back-to-back singles, and a sacrifice fly tied the game, 8-8. In the seventh, Dalyn Varela hit a two-run home run for the Cyclones to go up 10-8.
Pille took the loss after entering the game in a save situation with Kansas ahead 8-5 in the fifth inning.
Kansas (27-16, 4-13) and Iowa State decide the series today at noon.
Copyright 2018 The Lawrence Journal-World. All rights reserved. This material may not be published, broadcast, rewritten or redistributed. We strive to uphold our values for every story published.