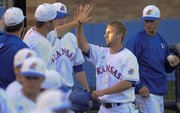 Zac Elgie's two-run home run in the first inning of Kansas University's 7-3 victory against visiting Baker on Tuesday night at Hoglund Ballpark was not a game-winner.
But it was a game-changer.
"Especially when you're trying to clear your bench, it's important to get ahead early," KU coach Ritch Price said. "And someone's gotta get a clutch swing for you to do that."
Tuesday, that was Elgie, who parked a 2-2 pitch from BU starter Sean McAlister over the left-field fence to erase a 1-0 deficit in the bottom of the first and send the Jayhawks to their second victory in three days.
"Against NAIA competition, you're gonna get a pitch to hit," said Elgie, who hit his fourth home run of the season. "The hard thing is laying off of their pitches and getting to the one you want."
Elgie got there in his first at-bat and finished the day with two hits and two RBIs. His first-inning blast propelled KU (14-23) to answer Baker's run in the top of the first with seven unanswered. That stretch came in part because of the way freshman pitcher Robert Kahana settled down during innings two through five.
After giving up a leadoff double and a sacrifice fly to open the game, Kahana was touched for just three more hits during his five innings. He walked one and struck out six while improving to 3-1.
"I was pleased Kahana going five innings today," Price said. "That's obviously key for his continued development. And it obviously gave us a chance to get all of our (second-string guys) in the game."
Twenty Jayhawks hit the field or had an at-bat during Tuesday's victory against the Wildcats (23-21-1).
"We knew we had to take care of business against these guys," freshman outfielder Dakota Smith, who was 2-for-3 with an RBI.
"But it feels good to get back on track. We're starting to make plays. We're hitting the ball all over the park. It feels good."
KU will host St. Mary at 6 tonight.
Copyright 2018 The Lawrence Journal-World. All rights reserved. This material may not be published, broadcast, rewritten or redistributed. We strive to uphold our values for every story published.