Photo Gallery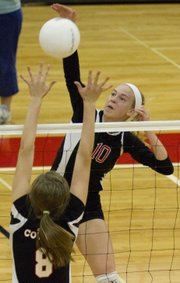 LHS volleyball triangular
Lawrence High's volleyball team defeated Shawnee Mission North 25-18, 25-17 and SM Northwest 25-15, 25-19 on Thursday at the Lions' gym.
Krista Costa had 14 kills and six blocks, Monica Howard 11 kills and 16 digs, Kailey Wingert seven kills and 11 digs and Brea May 32 assists for LHS, 7-5 overall and 4-1 in the Sunflower League.
"It was our home opener. The girls played very focused," LHS coach Stephanie Magnuson said. "We had a great fan base there. Everybody contributed. It was a good night."
LHS will compete Thursday at Free State.
Copyright 2018 The Lawrence Journal-World. All rights reserved. This material may not be published, broadcast, rewritten or redistributed. We strive to uphold our values for every story published.