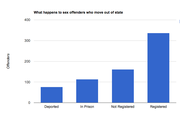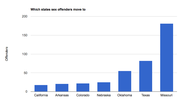 Registry facts and guidelines
• Enacted in 1993 and applies to crimes committed only after April 14, 1994.
• Requires sex offenders to register in person four times each year with their local sheriff's office.
• Adults are required to register for either 15 or 25 years, depending on the crime, for a first conviction, and life for a second conviction.
• Some more serious offenses require lifetime registration on a first conviction.
• Anyone required to register for an offense in another state is also required to register if they move to Kansas.
• Crimes requiring registration include sodomy, rape, sexual battery, indecent liberties with a child, sexual exploitation of a child and incest.
• Failing to register, or failing to notify the sheriff's office within three days when there's an address change, is a level 6 felony that could result in prison time.
• The public can search the registry online at no charge: accesskansas.org/kbi/ro.shtml.
• The U.S. Department of Justice operates the National Sex Offender Public Website, which compiles registry information from all 50 states. That site can be accessed at nsopw.gov.
The state of Kansas and county sheriff's offices keep pretty close tabs on the more than 4,500 registered sex offenders in Kansas. Only 8 percent of registered sex offenders currently are not complying with registration requirements, which include verifying home addresses four times a year.
But when a sex offender moves out of state, it's a different story.
A Journal-World investigation identified 161 registered sex offenders who have moved out of Kansas since 2006, but who do not show up on offender registries in the states they moved to.
For instance, in 2001, Curtis Mongold was convicted in Douglas County of sexually assaulting a girl. In addition to serving three years in prison, Mongold received a lifetime requirement to register as a sex offender.
In January, Mongold notified Kansas authorities that he was moving to California, where he'd have to register. But there is no record of Mongold in California where he is supposed to be registered, according to the National Sex Offender Public Website, which collects registry information from all 50 states.
Kyle Smith, deputy director of the Kansas Bureau of Investigation, said that the KBI sends letters to states that offenders move to, but after that it's somebody else's responsibility.
"It's up to (the new state and the offender) to do," Smith said.
There could be cases where an offender moves to one state, then to another, but that information isn't necessarily communicated among states, Smith said.
That's exactly the problem, said Laura Ahearn, executive director of Parents for Megan's Law and the Crime Victims Center, a nonprofit organization that advocates for more accountability in sex offender registries nationwide.
"We've established a law that requires society's most cunning of criminals to register on an honor system," Ahearn said. "Where are those 161 offenders?"
Differing laws in different states makes keeping track of sex offenders a complicated endeavor, Ahearn said. In some cases, an offender in one state may not be required to register in another state. That leaves some clever offenders engaging in what Ahearn calls "state shopping," where offenders move to a state where registry laws may not be as strict.
Ahearn scoffs at the idea that some states don't aggressively monitor what happens to an offender when they leave a state.
"If you are going to require a sex offender to register for life, you should be monitoring them for life," Ahearn said.
Kansas taking steps
Despite the issues identified during the Journal-World investigation, Kansas has taken steps to improve its sex offender registry.
A law that went into effect July 1 strengthened Kansas' offender registry, increasing penalties for offenders who fail to register while reducing from 10 to three days the length of time offenders have to notify authorities of an address change. The updates earned Kansas recognition as just the 10th state in the country to comply with the 2006 federal Sex Offender Registration and Notification Act, known as SORNA.
SORNA also gives the U.S. Marshals Service authority to investigate sex offenders who move out of state but fail to register in their new state. Matt Cahill, senior investigator with the marshals service's Kansas office, said they've apprehended several sex offenders who fail to register in another state, which is a federal and state felony. Cahill said his office relies on tips from the public and law enforcement about which offenders are not in compliance across state lines. At Cahill's request, the Journal-World forwarded the list of 161 offenders identified for this story to Cahill's office for review.
Smith said that Kansas is also working on software that will allow the state to communicate more quickly with other states, intended to fix some of the problems with interstate movement. That software could be ready as early as next spring, Smith said.
But the way the sex offender registry system currently operates, in Kansas and across the country, could leave communities in the dark when dangerous offenders move in from another state, Ahearn said, subverting the intent of such laws.
And the pain that abuse victims have suffered is compounded by the mystery of where their offenders may be, Ahearn said.
"That's terrifying to (victims) to not know where their offender is," she said.
Copyright 2018 The Lawrence Journal-World. All rights reserved. This material may not be published, broadcast, rewritten or redistributed. We strive to uphold our values for every story published.