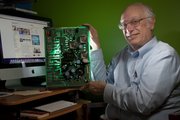 After more than three decades working in technology, Don Heiman has some predictions on what comes next.
By 2018, our homes will be fully automated. Your refrigerator will tell you when your food is about to expire. Your house will tell you how much energy your appliances are using. Ten years after that, things really will start to get interesting.
"By 2028, I really believe there will be a virtual you. You will be able to create yourself electronically, and it will extend your presence internationally," said Heiman, who retired earlier this month as chief information and technology officer at the Kansas Legislature.
Heiman has spent his career making technology work for government and government work for the people. Even as we become more aware of the ways technology threatens our privacy, Heiman's career is a reminder that technology has also furthered democracy in Kansas and made government more accessible.
As a young man, Heiman worked as a junior analyst on the Geneva Convention arms treaty. In the 1970s, he worked under Kansas City, Mo., Police Chief Clarence Kelley, who later became director for the FBI, geocoding crime. He and others on the project mapped where crime occurred and used that data to determine where police officers should be deployed. It's common practice now but was revolutionary at the time.
"I got to see a round of technology that affects you and I in a very personal way," Heiman said.
Heiman went on to work for the Kansas Legislature, back when computing power was much more expensive. He bought million-dollar mainframes and a $10,000 desktop computer for the state.
"Can you imagine buying a desktop for $10,000?" he asked.
Document access
One advance that may be coming soon would change the way we store and access our important documents, such as birth certificates and social security cards. Instead of going to a government building to get them, we would be able to access the original documents online. It won't be just a copy. It will be the real thing, admissible in court.
"You don't have to go down and be in the presence of government to get your record. You can get it online in its original (form)," Heiman said. "It's authenticated, and it endures forever."
The tricky part is developing a way the record can't be altered once it's put into the system. It will be preserved forever once it is authenticated as the real document. The technology is getting close, Heiman said. Scientists at NASA and the Massachusetts Institute for Technology have worked on the problem, and Propylon, a tech company with an office in Lawrence, has developed a prototype.
Last year, the Legislature passed a law saying that if such a system were created, and the documents were approved by the state archivist, they would be admissible in court.
Tracking intent
In 2010, Heiman helped change the way lawmakers create bills in the state. The old system was time-consuming, with amendments added to a bill by physically taping strips of paper onto the original versions.
It's now done electronically, making it possible for someone to track the development of a bill by looking at the various forms it took and even see what speeches legislators gave at each step of a bill's creation. Heiman said this makes legislative intent easier to track and interpret.
"Laws are not fully touching you, until the courts interpret the bills," he said. "So that intent is very, very important in the interpretation of the laws that are made. You capture that intent at the time that you create the bill."
For Heiman, this is his second retirement. He tried it in 2001 but was drawn back into work. This time, he said, retirement will stick. He said his work is a younger person's game.
Heiman has a daughter who is a mathematician, and looking at the work her generation is doing gives him confidence he's leaving things in good hands.
"This next generation is coming in, and they are going to carry us to this next incredible world."
Copyright 2018 The Lawrence Journal-World. All rights reserved. This material may not be published, broadcast, rewritten or redistributed. We strive to uphold our values for every story published.