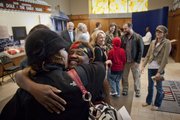 Honglian William Shi smiled proudly minutes after he and 98 other people took the oath to become a U.S. citizen administered by U.S. District Judge John Lungstrum.
Shi, a third-year Kansas University associate professor of pharmacology and toxicology, originally from China, worked for years to establish residency and complete other citizenship requirements, including learning about the U.S. Constitution.
"We see it here. It is a place for us to live mainly for the freedom — political freedom and economic freedom," Shi, 42, said Friday morning after the naturalization ceremony at the Dole Institute of Politics on KU's West Campus. "What I'm doing, I think I can make more progress right here."
He came to America as a researcher and worked at other universities before coming to KU. But Shi took to heart an urging from Lungstrum and others at the annual ceremony, meant to coincide with the anniversary today of the signing of the Constitution, Sept. 17, 1787.
"The rights of citizenship are many, and the process you've gone through to earn them is difficult," KU Chancellor Bernadette Gray-Little said. "But it is difficult for a reason. The rights you've gained as citizens have been and must continue to be protected. Yet too often those rights are taken for granted by those of us who are born with them. Today you remind us of what a precious gift citizenship is, and you honor us with your commitment to become American citizens."
Gray-Little urged the new Americans to participate and be engaged in civic life — at the local, state or national levels. The chancellor pointed to the military and political service of Sen. Bob Dole as an example.
Federal court officials said 99 people participated in Friday's ceremony, and they represented 44 countries, including China, India, the Philippines, United Kingdom, Syria, Mexico, Nigeria, Albania, Ukraine, Jamaica, Argentina, Ethiopia, Vietnam, Israel, Somalia, Kenya and Pakistan.
"You have great diversity in where you're from, what you do, what your backgrounds are and what you're doing here," said Lungstrum, a Lawrence resident. "You're united, I think, by a common interest, a common desire to have political and economic freedom, to be able to have a better life for yourselves and your families and to share in all those things which I think America stands for around the world.
"We are so pleased to have you join us in that respect."
U.S. Rep. Kevin Yoder, a first-term Republican congressman who represents the state's 3rd District, said the group was rewarded for working hard and following the rules in their paths to citizenship, but, like Gray-Little, he said the ceremony was more of a beginning than an end.
"During your pursuit of this day, you have demonstrated that you are capable of achieving great things," Yoder said. "Now is not the time to rest. Now is the time to take the energy, drive and commitment it took to reach this day and contribute to your new community."
Stella Ayers, of Edgerton, said the process was smooth for her because she had lived in the United States for nearly 27 years. But Ayers, who grew up in Nigeria, wanted to join her American-born children and husband in citizenship. She said Friday's ceremony was emotional.
"Now my voice counts," she said. "I have a say in political matters."
Shi, of KU's School of Pharmacy, also was proud he could now vote. He'd learned about the Constitution in the process but was ecstatic to officially take the oath.
"It's really very important. It's an extraordinary day in my life," Shi said. "My life will be much better than before."
Copyright 2018 The Lawrence Journal-World. All rights reserved. This material may not be published, broadcast, rewritten or redistributed. We strive to uphold our values for every story published.