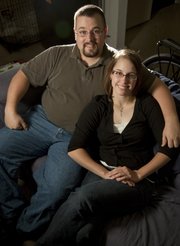 Their relationship reads like a romantic comedy script.
Boy meets girl. Boy and girl become instant friends. Boy and girl can't be more because girl is hitched. Girl moves away. Boy stays in touch.
Fast-forward 14 years: Boy and girl, both single, meet up for dinner. Boy and girl fall in love.
Fast-forward six months: Boy and girl elope.
They rush down the aisle and off to some sandy beach somewhere for the ultimate honeymoon and happy ever after, right?
Not in this case.
Boy and girl, now Kevin and Rachel Wohler, waited four more months to take their dream honeymoon at Disneyland.
And they're certainly not alone in delaying their happily ever after.
Whether it's the economy, scheduling issues or simply personal preference, couples are making a trend out of holding off on their honeymoons. Pastor Paul Gray of New Life in Christ Church, 619 Vt., says a good deal of the couples he marries are doing exactly as he did in 1969 — going on a delayed honeymoon.
"Maybe half the people that I marry don't get to go on their vacation right away," says Gray, who was married on a Saturday, traveled the length of Missouri on Sunday and started a new job Monday. "I would guess the economy probably does have something to do with it."
Bill Parrott and Becca McGowan are getting married in November 2012, but won't honeymoon until ... well, they don't know when. They just know why.
"The biggest reason is that we will both be finishing our last year of school and don't want to deal with taking more time off than we already will for the wedding," Kansas University student Parrott says. "On top of that, we want to be able to save for and plan the honeymoon like a vacation rather than being 'yet another thing' that we have to plan leading up to the wedding."
Instead, what they do know is they plan to take a few days the following week — KU's Thanksgiving break — to relax at home and enjoy the fact that they're finally married after what will be a three-year engagement.
"We still plan on having a mini-honeymoon over a couple days that's just for us so we can enjoy and celebrate having just gotten married," McGowan says. "And with our engagement having been so long, it will have been a long-awaited happy day to call each other husband and wife."
Parrott says he imagines they'll get the time and place for their honeymoon nailed down eventually, though with their lives as students factored in, there's a good chance the timing will be as limited as their wedding was for long school breaks.
"We're hoping to take our honeymoon in Australia, so we really want to go sometime in December or January following the wedding," Parrott says. "That way we get good weather while we're there. Otherwise, we will probably have it the summer of 2013."
The Wohlers didn't have school or the economy to make them wait, just life in general. They met while working for the Disney Catalog in 1991. A couple of "true believers," they instantly bonded over their love of the mouse. So, it's only fitting that the previous reservations they'd made to attend the 50th anniversary of Disneyland — July 17, 2005 — would become their eventual honeymoon after marrying in April of that year in Lake Tahoe, Nev. Rachel Wohler says the wait was tough, but it was worth it because she and her prince had a happy ending perfect for them.
"I grew up going to Disneyland all the time. In a lot of ways, it's home to me," Rachel Wohler says. "One of the first things I always did growing up was stop at Snow White's Wishing Well in front of the castle to drop coins into it and make wishes. Going there on my honeymoon with Kevin was very emotional. I had the person I always wished for as a little girl. So, I dropped a whole bagful of coins into the wishing well in the hope that the next people to come along would get their wishes, too."
Copyright 2018 The Lawrence Journal-World. All rights reserved. This material may not be published, broadcast, rewritten or redistributed. We strive to uphold our values for every story published.