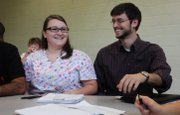 Recent Kansas University graduate Sophie Archuleta won't be entering graduate school or applying for jobs any time soon.
And she says she wouldn't have it any other way. Instead, she "gets the chance to help people in a meaningful way — a way most people don't," Archuleta said.
She's one of eight AmeriCorps volunteers who began work at the Heartland Community Health Center, 1 Riverfront Plaza, on Thursday.
For the next year, they'll be involved hands-on with patients and administrators at the safety-net clinic, which aims to offer "holistic patient care" to at-risk members of the Lawrence community. This includes medical care, behavioral counseling and other services.
Archuleta will help provide care to patients with diabetes — a challenging disease to treat, especially for those with low incomes or other life-complicating factors.
"It's important they understand the importance of their health and how they do have control," she said. "We try to take our patients and help put them on a path toward something great."
Another volunteer, 2010 graduate Dylan Fulmer, said the volunteers' contributions help the community and themselves as well.
"The learning curve is unbelievable," he said. "We will all grow so much."
AmeriCorps is a federally funded service organization with 11 sites in Kansas. Members contribute at least a year of volunteer work in exchange for a stipend and loan deferment.
The volunteers' enthusiasm for service comes as the center prepares for expansion of its hours, said Ali Edwards, development director for the clinic and herself a former AmeriCorps volunteer.
HCHC expects to have at least 5,000 patient encounters by the end of this year — up from about 3,300 last year.
Copyright 2018 The Lawrence Journal-World. All rights reserved. This material may not be published, broadcast, rewritten or redistributed. We strive to uphold our values for every story published.