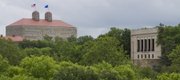 Subscribe to the email edition of Heard on the Hill and we'll deliver you the latest KU news and notes every weekday at noon.
Your daily dose of news, notes and links from around Kansas University.
• One of my favorite quotes I've received during my time here came from a KU faculty member, who pointed out that when academic departments were cutting back on things like copy paper, it wasn't easy to see Allen Fieldhouse, with palazzo tiles in the restrooms and iPod jacks in the locker rooms.
I always think back to that quote when I see stories like this one. The Chronicle of Higher Education points to a new report from the Knight Commission that shares the relatively unsurprising news that spending on athletics per athlete at Football Bowl Subdivision (FBS) schools is rising much faster than spending on academics per student.
The study looked at a five-year period from 2005-2009. At FBS schools, the median spending on athletics per athlete rose nearly 50 percent, to $91,053. Meanwhile, the median spending on academics per student increased at a much slower rate — about 22 percent — to $13,471.
The disparity was particularly great in the Big 12 Conference, where the median spending on athletics per athlete ($131,440) was 9.4 times the median spending on academics per student ($14,021). Only the SEC had a greater difference between the two figures.
That's a lot of palazzo tiles in restrooms.
• I figured I'd share a couple tidbits from around the higher-education presidential ranks.
First, Joseph E. Nyre is scheduled to be inaugurated as Iona College's eighth president this week.
Nyre earned an educational specialist degree and a Ph.D. in school psychology from KU, and had been the president of the Hope Institute for Children and Families before being named as the first lay leader of the Roman Catholic institution, according to the New York Times.
Also, Andrew K. Benton, president of Pepperdine University and a Lawrence native whose parents, Nelda and Darwin Benton, still live here, has been named as one of three vice chairs on a national commission on higher education attainment.
The chair of the commission is E. Gordon Gee, president of Ohio State and one of the most well-known presidents in the business.
The commission will focus on ways to improve college retention and attainment, and will meet for the first time in Washington on Halloween (which is hopefully not some kind of bad omen for their task at hand).
Six different higher education associations submitted people to serve on the committee.
• And, finally, congratulations to the Free State High School scholar's bowl team, who won the game-show style academic competition I had the pleasure of moderating at Blue Valley High School on Thursday while I was enjoying a bit of a stay-cation.
They beat Louisburg in the finals, coming out on top of the 15-team field.
Think you can handle a few of the questions?
"By what more common name do we know the Greek artist born Domenicos Theotocopoulos before being given his nickname by the citizens of Toledo, Spain?"
"If y is inversely proportional to the square of x and y=3 when x=6, what is the value of y when x=3?"
"The axilla is the medical term for what part of the body?"
If you answered "El Greco," "y=12" and "armpit," you're smarter than I am. I only had a few flubs (hey, you try to pronounce "Theotocopoulos," on the fly). From the smart folks I saw answering questions, I think KU has more than a few smart cookies in Kansas from which to attract new Jayhawks.
• If you submit a good tip for Heard on the Hill to ahyland@ljworld.com, I might just lend out my moderating skills for you, too.
Copyright 2018 The Lawrence Journal-World. All rights reserved. This material may not be published, broadcast, rewritten or redistributed. We strive to uphold our values for every story published.