Photo Gallery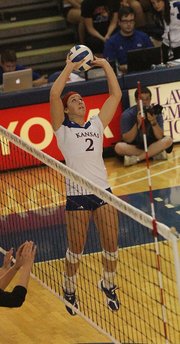 KU volleyball vs. Nebraska-Omaha
Despite facing a four-point deficit at match point in the final set, Kansas University's volleyball team rallied to complete a sweep against Nebraska-Omaha on Tuesday at Horejsi Center. KU won by scores of 25-20, 25-16, 28-26.
Nearly 800 fans were on hand to witness the Jayhawks improve to 12-4. KU swept its eighth opponent of the season.
The Jayhawks trailed, 24-20, in the final set. Senior outside hitter Allison Mayfield threw down three kills, while middle blockers Caroline Jarmoc and Tayler Tolefree tallied one kill a piece for the final five points of the match and a victory.
"It is a good thing for this team to have the opportunity to do something like that," KU coach Ray Bechard said. "We had to stay under control, stay composed and make some good volleyball plays. It was good to see. We've been on the other end of that a couple times in the last few matches so it was good to see our team turn that around."
Kansas snapped a three-match losing streak.
Senior setter Nicole Tate came in the final set to dish out a season-high 10 assists, while Mayfield collected her fifth double-double of the season with a team-high 14 kills and 16 digs.
Sophomore libero Brianne Riley led the team with 20 digs. In the last two matches, the sophomore has racked up 54 digs. Sophomore setter Kara Wehrs went a perfect 4-for-4 on kills on Tuesday, while Tolefree and Jarmoc teamed up for 15 kills.
Freshman outside hitter Sara McClinton made her first appearance since the Texas match on Sept. 24 and posted four kills and a block assist.
Kansas will play host to Texas A&M; at 6:30 p.m. on Saturday at Horejsi Center.
Copyright 2018 The Lawrence Journal-World. All rights reserved. This material may not be published, broadcast, rewritten or redistributed. We strive to uphold our values for every story published.