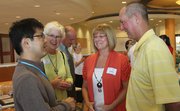 Sister cities gala
The Lawrence sister cities program is hosting a gala in honor of its 20th anniversary. The event begins at 6:30 p.m. Wednesday at the Lawrence Country Club, 400 Country Club Terrace. All proceeds will go toward the program's scholarship fund. Tickets are $50 and can be purchased at the event.
Related document

Hiratsuka delegation schedule ( .BLUE-FIN )
The city's sister cities program turns 20 this year, and a 13-member delegation from Hiratsuka, Japan, is in Lawrence to mark the occasion.
The delegation, which includes Hiratsuka Mayor Katsuhiro Ochiai, will meet with Lawrence officials and local business leaders. Their itinerary began Monday night with a welcome reception at Spring Hill Suites, 1 Riverfront Plaza.
The program sends Lawrence students on four-week, language-based exchanges to Eutin, Germany, and shorter cultural exchanges to Hiratsuka. Students from Eutin spend time going to classes in both high schools, and all visitors do home-stays with Lawrence families.
The result, its organizers say, is an enriched community with members who have personal relationships across the world.
"We're sending our young people from one culture to another and creating a warm atmosphere in both," Ochiai said, through an interpreter. "It's an exchange that allows Americans and Japanese the opportunity to expand their understanding."
Lawrence resident Layla McEniry has seen the Hiratsuka exchange program develop firsthand. She was one of the first students to make the trip and this past summer, her daughter Sadie did, too, 20 years after her trailblazing mom.
The biggest changes between Layla's experience and Sadie's, they say, are the wider exposure to Japanese culture in America and the use of technology to keep in touch — where Layla had a list of pen pals upon her return; Sadie has Facebook friends.
Sadie, now a sophomore at Lawrence High School, says the trip has made her want to teach English abroad as a career. Layla says she's happy her daughter got to have the same positive experience she did.
"Travel is one of the best ways to educate yourself about the world," Layla said, "and about who you are as a person."
Copyright 2018 The Lawrence Journal-World. All rights reserved. This material may not be published, broadcast, rewritten or redistributed. We strive to uphold our values for every story published.