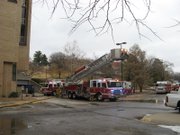 Kansas University police and Lawrence-Douglas County Fire Medical officers were called to a structure fire on the fifth floor of Malott Hall on the KU campus just after 7 a.m. Saturday.
Firefighters found heavy smoke and flame confined to a single lab on the fifth floor, according to a media release from the department. A third alarm was called to assist if chemical hazards were found. The affected lab is part of the medicinal chemistry department; Malott is home to KU's chemistry-related departments.
Jack Martin, KU director of strategic communications, said that the fire damage was contained to the fifth-floor lab and that there was water damage to the hallways and labs beneath.
As of Saturday afternoon, officials were still in the process of assessing the extent of the damage and trying to determine a cause.
Fire alarms went off in Watson Library and Eaton Hall before the Malott Hall fire was extinguished because of changes in water pressure, according to a KU alert email.
A second call of a fire in Malott went out at about 1 p.m., that time on the fourth floor, but officers quickly determined that the reporting person had seen steam, not smoke, as an effect of the initial fire.
Copyright 2018 The Lawrence Journal-World. All rights reserved. This material may not be published, broadcast, rewritten or redistributed. We strive to uphold our values for every story published.