Photo Gallery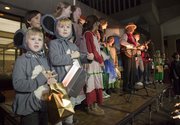 Santa's rescue and downtown holiday lighting ceremony
A crowd watches Santa's annual rescue from the roof of Weaver's Department Store and the downtown holiday lights being turned on.
It was supposed to be a routine publicity stop for Santa Claus. He'd come to town, see our city's annual lighting ceremony and ask the local children what they'd like for Christmas.
But Santa ran into a little trouble. First, he got word he didn't have the proper tags to drive a reindeer-powered vehicle in Kansas.
Then his reindeer got hungry and stranded him on top of Weaver's, 901 Mass. According to the lighting ceremony's emcee, the reindeer were enjoying the fine restaurants below.
Luckily for Santa, it wasn't long before members of Lawrence-Douglas County Fire Medical came down Massachusetts Street, truck blaring. The firefighters brought out their ladder and returned Santa to the ground.
The crowd went wild. Children and members of the media rushed Santa, wanting pictures or to just get a glimpse of the man.
"The paparazzi, they follow Santa everywhere," the event's emcee told the crowd. "Those pictures of Santa at the beach …" he trailed off before he said too much. It was, after all, a family-friendly event.
After about 15 minutes, Santa made his way to the stage in front of US Bank, 900 Mass., and dozens of children lined up to sit on Santa's lap.
"I asked him for an iPod Touch," one boy told his mother, touching his eyelid to illustrate the point.
Before Santa showed up, carolers sang, and City Commissioner Mike Amyx took time to praise the work of the Salvation Army.
"We hear the Salvation Army bells. It's a sound of the season," Amyx said.
He read a proclamation from Lawrence Mayor Aron Cromwell declaring the day Salvation Army Christmas Kettle Kickoff Day.
Amyx said he'd been coming to the corner of Ninth and Massachusetts his whole life to see the lights come on.
"This is one of the most special places out of all of the United States," Amyx told the crowd. "Thank you all for coming."
As for Santa, he wasn't available for comment. He had his hands full.
Copyright 2018 The Lawrence Journal-World. All rights reserved. This material may not be published, broadcast, rewritten or redistributed. We strive to uphold our values for every story published.