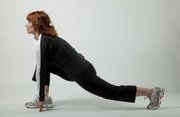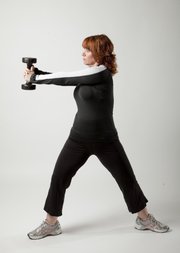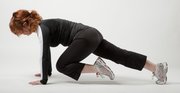 Welcome to November and a new feature in Go! According to stores all around, the holidays are here. Didn't you know? They have begun!
I'll just say what you already know and put your fear into words: It's going to get very crazy, very quickly. And you need a game plan. Now.
If you don't have one, I'll try to help you get one. If you are milking your current workout and playing it safe, I'll encourage you to pick up the pace. And if you just want some great moves to strengthen your core, I have some of those as well.
It's time to get moving, and I am so excited to help you do just that! Over the past 13 years, I have been a fitness professional in several different capacities, with certifications from Aerobics and Fitness Association of America and American Council on Exercise. I've taught group fitness classes at Kansas University, the University of West Alabama and for the city of Lawrence. I love working as a trainer and making a difference every day. And I know I will love spending the next few months encouraging you to "See Fit."
Forget January resolutions. We're starting now!
Let's assume that you have been "working out" in some format up until this moment and nothing is really changing. You've hit that familiar plateau where frustration breeds workout failure.
Before you make a terrible decision and abandon your fitness plan all together, let's go back to the basics.
The FITT principle is not the latest fad and is hardly revolutionary. It is, however, basic and relevant, which suits our purposes perfectly. In a nutshell, FITT is the acronym for Frequency, Intensity, Type and Time.
Whether you are just beginning your workouts or are a seasoned gym rat, everyone should take these factors into account. How often are you working out? At what level? Can you carry on a conversation as you walk or run? What activity or exercise are you doing? Is it cardiovascular? And for what duration of time are you working on accomplishing these athletic feats of greatness?
As we get comfortable in our routines, they become easier and less taxing to do. If you can breeze through your workouts and get in and out of the gym in no time, then it's time to examine the FITT principle and challenge yourself.
Visualization is a powerful tool, so make a record of your plan for easier reference later. Seeing your success will motivate you, I promise, particularly as you begin to implement your basic workout plan.
What workout plan, you ask? Where, exactly, do I expect you to find the time to even think about working out (now that the holidays are here)?
Oh, relax. I have it all planned for you. So make the commitment. Ready! Set! Go!
Two-week triple threat
Incorporate these moves into your current fitness plan for the next two weeks.
Do your strength training BEFORE you do cardio.
Remember the FITT principle.
KNEE TO LUNGE
Works legs, glutes and core
Perform 10 reps, then switch sides
• Raise right knee up and down 20 times. Repeat with left knee.
• Now raise right knee to hip height as you extend arms overhead, palms facing inward. Lower right foot, lunge left leg back & lean forward. Step left foot up and return to start. This completes one rep.
TWISTED
Targets abs, shoulders, obliques, glutes and quads
Perform 12 reps
Stand with your feet wider than hip-width apart, toes pointed out. Hold a weight with both hands at hip level.
Squat and raise arms shoulder height. Twist upper body to left and return to center. Repeat on right. That's one rep. Repeat.
PLANK TUCK
Works core and glutes
Perform 10 reps, then switch legs
Lie on floor with hands shoulder length apart and legs extended. Your body should be straight from head to heels.
Lift leg several inches, toes pointed, and bring knee toward your left elbow, rounding your back slightly. Extend leg and bring knee toward right elbow on the next rep. Switch legs.
You can do it!
Copyright 2018 The Lawrence Journal-World. All rights reserved. This material may not be published, broadcast, rewritten or redistributed. We strive to uphold our values for every story published.