Kansas University students removed more than a ton of vegetation out of Potter Lake Sunday, part of an ongoing effort to restore the campus landmark.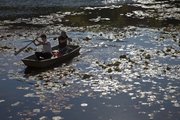 More than 40 students helped clear the lake, which required two boats and the occasional assistance of a pickup truck.
Stan Loeb, KU's environmental specialist in charge of monitoring the pond, said removing vegetation is the best way to keep the pond healthy. He's wanted to do a cleanup for two months.
"I had the energy but didn't have the bodies," Loeb said. "The students should be recognized for their efforts."
Celeste McCoy, a senior at KU and head coordinator of the Potter Lake Project, helped Loeb recruit volunteers. McCoy said she expected about six volunteers and was surprised by the large turnout.
As the cold weather kills aquatic plants, they accumulate on the bottom and decompose, releasing nutrients that feed the green scum that used to layer the pond's surface. The growth isn't just an eyesore; it deprives the water of oxygen and kills fish.
"It used to be one big, green mess," McCoy said. However, she said the pond is much healthier after KU dredged it in 2010.
Volunteers threw weighted ropes into the water, creating a horseshoe pattern to drag out vegetation. It was a tug-of-war — eight people and one truck versus the bottom of the lake. Just an hour into the day, dozens of white trash bags filled with plant matter lined the shore. McCoy said she expected to fill more than 100 bags.
Katie Fankhauser, a junior at KU, volunteered and said Potter Lake was a vital part of KU's campus. McCoy agreed, adding that it's the students' responsibility to maintain the pond.
"It's impressive to see the students get together in the common goal of improving Potter Lake," she said.
Copyright 2018 The Lawrence Journal-World. All rights reserved. This material may not be published, broadcast, rewritten or redistributed. We strive to uphold our values for every story published.