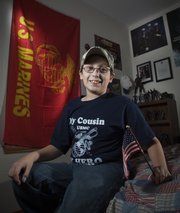 Daniel Watts wants to be a Marine when he grows up. His mom, Michelle, has other ideas. She shakes her head no with a knowing smile when he says it's his dream while he's standing in front of the insignia flag in his carefully organized bedroom.
But it isn't because she's opposed to her eldest son in the armed services.
"Air Force is the way to go," she says.
She should know. She's a veteran of the Air Force, and currently works for Veterans Affairs in Fort Leavenworth. Daniel will turn 11 years old today on this anomaly of the calendar, 11/11/11. It's a special day for him, of course, but also carries an interesting significance for his family.
It's easy to see who he looks up to — Daniel has one cousin who's a Marine currently in Afghanistan and another who's in Marine basic training. His father, Chris, left active duty in 2003 as an Army specialist. Chris met Michelle, who left active duty as a senior airman in 1999, while training at Sheppard Air Force Base in Wichita Falls, Texas. They've both completed tours in Iraq. Michelle's father also retired from the Army.
"We're a very pro-American family," Michelle said.
The Wattses have lived in Lawrence for two years and also have a daughter, Alyssa, 6, and twin 8-year-old boys, Alex and Anthony.
Daniel is very aware of his family tradition and says Veterans Day is about "celebrating the soldiers who are serving and the ones who've died."
That's a heavy concept for an 11-year-old to grasp, but as he marks his birthday with his proud family, he'll get to have the joy of opening up presents, too. He hopes for a box set of scary movies, he said, "because they're the best."
Copyright 2017 The Lawrence Journal-World. All rights reserved. This material may not be published, broadcast, rewritten or redistributed. We strive to uphold our values for every story published.