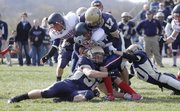 Veritas Christian School's football winning streak came to an end at the hands of an old nemesis.
St. Mary's Academy beat the Eagles, 48-30, to end Veritas' season, its 19-game winning streak and its run in the Kansas Christian Athletic Association state playoffs on Saturday at the Eagles Nest.
"I think we were ready to play," Veritas junior Andrew Harvey said. "They just outplayed us."
Veritas, the defending KCAA state champion, jumped to an early lead, recording a safety on the first drive of the game after the ball went over a St. Mary's player's head and out of the end zone.
Then, early in the second quarter, senior quarterback Nick Bennett ran in a short touchdown. Veritas missed the two-point conversion, and the 8-0 lead would be the Eagles' largest of the game.
"I know a lot of guys were beat down and devastated," Veritas senior Preston Randall said. "But, honestly, we played the best game we could."
Veritas held the lead until 1:53 left in the half. That's when St. Mary's took over.
St. Mary's quarterback Brian Rebigila got hot after a slow start and started finding wide-open receivers for huge gains. The Crusaders scored a touchdown to take a 16-14 lead.
The Eagles looked like they could go in for another score before halftime, but fumbled it away on the second play of the drive. Using the remaining time, St. Mary's capitalized with a touchdown and went into halftime with a 10-point lead.
Turnovers killed the Eagles. They had five turnovers, and several of them were in crucial moments. St. Mary's turned an interception on the second play of the second half into a touchdown.
Veritas then tried to swing the momentum with a 47-yard pass from Bennett to Randall. With the end zone 10 yards away, the Eagles fumbled it away.
It was Veritas' first loss since the semifinals of the 2009 tournament.
The Eagles did not defend their KCAA title, but they are still comfortable with how the season turned out.
"We came out and blew people up," Harvey said. "Oh, man, it was awesome. It was a great season."
That's the mentality coach Doug Bennett tried to instill in his players. Championship or not, Veritas football is becoming a powerhouse.
"What I told them was '10-1,'" Bennett said. "That's a great record."
Randall recalled getting beat by almost every team when he first came to Veritas, but things have turned around. After three successful seasons, the Eagles are not a fluke.
"We're not going to be a team that goes up then goes down," Randall said. "I feel like with the guys coming up, we've got a good future ahead of us."
Doug Bennett said he is most proud of the players getting to know success.
"Kids that aren't getting this kind of experience need to think about coming to Veritas," he said.
Copyright 2018 The Lawrence Journal-World. All rights reserved. This material may not be published, broadcast, rewritten or redistributed. We strive to uphold our values for every story published.