Gov. Sam Brownback made it clear Tuesday that he wants the Kansas University Medical Center to improve its national ranking and he wants to overhaul the state tax system to attract more business.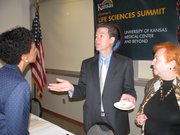 Brownback's comments came during his economic summit on life sciences at KUMC.
The morning-long conference brought together more than 150 politicians, researchers, business representatives, administrators and doctors.
The stated goal was to come up with ways for Kansas to increase life sciences research to improve health care and develop more jobs.
"You have to be a global competitor if you're going to enter the field," said Brownback. "We need to pick where we are going to compete and win at it," he said.
The advancement of life sciences has come a long way in the region, several speakers said.
KU is about apply for National Cancer Institute designation for the KU Cancer Center.
KU Hospital has gone from near fiscal ruin in the 1990s to becoming nationally recognized for patient care.
And research dollars flowing to KUMC have increased from $69 million in 2005 to $100 million last year. The medical center's ranking by the National Institutes of Health has risen from 75th in 2006 to 60th in 2010 out of 124 ranked.
"We think we have done a lot, and we think there is a lot more to do," said KUMC Executive Vice Chancellor Barbara Atkinson.
Brownback emphasized several times during his comments that KU needed to improve its ranking.
KU Chancellor Bernadette Gray-Little welcomed the challenge. "I endorse that," Gray-Little said. She said it will take an extra commitment to recruit more researchers and improve the physical resources at the medical center.
Kansas Board of Regents Chairman Ed McKechnie agreed with Brownback. "A governor's job is to encourage and push. I was glad to hear: 'We're expecting results,'" he said.
Some business leaders said it was difficult to attract venture capital to the Midwest, but others said investment money was out there waiting for the economy to settle.
Most speakers said life sciences research was on the upswing, and many expressed enthusiasm over the recent announcement by Google that Wyandotte County and Kansas City, Mo., would be the first location for the company's ultra high-speed fiber project.
Milo Medin, vice president of access services for Google Inc., said the high-speed Internet will yield products not yet even imagined. "We believe speed is critical to innovation and competitiveness. We believe we are in the early stages of a revolution. We want to invent the future with you," Medin said.
At the conclusion of the meeting, Brownback reiterated his call to reduce income taxes, saying that will attract more people and businesses to the state.
He said he was tired of hearing about Kansans moving to Texas and Florida, both of which have no state individual income tax. "I want to start beating the Texans and Floridians," he said.
This was the third summit held by Brownback; the first two being on aviation and tourism. A meeting on animal health sciences will be held June 9 in Manhattan.
Copyright 2018 The Lawrence Journal-World. All rights reserved. This material may not be published, broadcast, rewritten or redistributed. We strive to uphold our values for every story published.