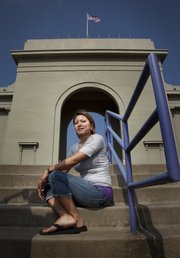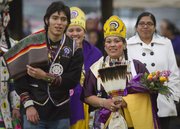 A complete list of 2011 Haskell graduates. Filter the list alphabetically from A to Z by name and degree.
Colene Wagnon said she got tired of the same old kinds of jobs.
Picking up phones at the call center, working in restaurants — those were tedious, she said, but they weren't the worst.
That honor belongs to a payday loan company, where she had to press people who were already strapped to pay up on those high-interest loans. She even had to go repossess a car once.
So she went and improved her lot in life. On Friday, the 33-year-old mother of three will do something no one else in her family has done. She'll get an associate's degree from Haskell Indian Nations University. Only a few members of her family have finished high school.
"When I first got out of high school, I had no idea I wanted to go to college," she said.
Wagnon's mother had her when she was just 15. Wagnon went on to live with her grandmother in Oklahoma.
"The life that I grew up with, it wasn't very steady. We were always struggling," she said.
And she's not done, she's quick to point out. Though she dreads the math that lies ahead, she intends to finish her bachelor's degree in business. She likes it here, she said, and enjoys meeting new friends from a wide range of backgrounds.
Wagnon got pregnant in high school. Her oldest daughter, Taylor, will be 16 in May. D.J. is 14, and the youngest, Brianna, is 8. A boyfriend helps out at home sometimes, but she's the primary caretaker for her children.
Juggling the quadratic formula, soccer practices and working at the Haskell mail center, it was often difficult, she said.
"I just thought about that degree," she said. "I really strive to show that it can be done."
She's paid for school with scholarships, work and money from her tribe, the United Keetoowah Band of Cherokee Indians of Oklahoma. She worked in Haskell's mail center, where she was supervised by Althea Eaton, the Haskell mail clerk. When asked how to describe Wagnon, Eaton said, "strong."
"She works hard at her school, she works hard here and she works hard for her family," Eaton said.
Eaton gives Wagnon extra tasks, like serving on the commencement committee to get a handle on the graduation mail. She teases her about being an overachiever, but deep down, Eaton said she knows Wagnon can handle it.
When she's through with her education, Wagnon said she wants to pursue a career in human relations. She likes being busy, she said, and doesn't want a job where she just stares at the clock and counts down the hours.
"I want to help people," she said.
Copyright 2018 The Lawrence Journal-World. All rights reserved. This material may not be published, broadcast, rewritten or redistributed. We strive to uphold our values for every story published.