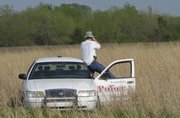 Multiple agencies were searching Monday afternoon for a suspect in a car chase in southwestern Leavenworth County.
Officers from Tonganoxie police, Leavenworth County and the Kansas Highway Patrol were searching, and a Kansas Highway Patrol helicopter circled the area, which is covered with dense woods and has few roads.
The site is northeast of 262nd Street and Loring Road.
According to Leavenworth County Undersheriff Ron Cranor, officers pursued a suspect in a car to the area. The suspect later ditched the car.
Tonganoxie Police Chief Jeff Brandau wouldn't comment on the search, saying only that it was still ongoing.
Officers questioned neighbors and searched at least one property in the area.
Brandau said police had not captured the suspect as of 9 p.m.
Copyright 2018 The Lawrence Journal-World. All rights reserved. This material may not be published, broadcast, rewritten or redistributed. We strive to uphold our values for every story published.