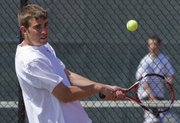 Over the past few weeks, Lawrence High's tennis team has been preparing for one day.
That day is Friday, when the Lions host one of four Class 6A regional meets at the Lawrence Tennis Center.
So Wednesday's dual with Mill Valley was less about the final results and more about the progress of their preparation.
The Lions won the dual, 5-3, but coach Chris Marshall really just wanted to see his players apply practice fundamentals to game situations.
"Instead of beating up on each other, it's nice to play somebody else," Marshall said.
Freshman Thomas Irick was the most dominant Wednesday, securing an 8-0 singles victory over Mill Valley's Ryan Howes and an 8-2 doubles victory with teammate Pace Leggins.
Irick said the brisk wind affected his forehand and caused a few too many unforced errors for his liking. But he feels he is ready for his first taste of regional play.
"I'm excited for it, and I think it's going to be a lot of fun," Irick said. "There's gonna be a lot of good competition."
Senior Ilan Rosen, who did not play Wednesday because he had used up his allotment of matches, will be the other singles player for the Lions. Marshall expects both players to earn top-eight seeds Friday.
Senior Connor Schmidt and junior Matt Grom, the Lions' No. 1 doubles team, stormed back from a 3-0 hole against Mill Valley's Joe Vincent and Eric Howes to win, 8-6.
Senior Eric Long and junior Matt Mikel, the No. 2 doubles team, lost to Ryan Speer and Lucas Robinette, 8-5.
Long will play on the second doubles team again on Friday and pair with either Mikel or Leggins.
Marshall said he hopes his players can be more consistent Friday and not focus on the negative as much.
"Sometimes we have a tendency to get down when we lose points, so then we lose two or three points, which means we lose a game," Marshall said.
The regional meet will start at 9 a.m. Friday. The other teams participating are Free State, Leavenworth, Olathe East, Olathe North, Olathe Northwest, Olathe South and Topeka.
Copyright 2018 The Lawrence Journal-World. All rights reserved. This material may not be published, broadcast, rewritten or redistributed. We strive to uphold our values for every story published.