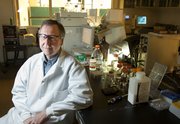 Though Val Stella, Kansas University distinguished professor of pharmaceutical chemistry, has won many awards in his career, the one announced this week ranks as special, he and his colleagues said.
Stella has earned the Takeru Higuchi Research Prize, the highest international award given in the pharmaceutical sciences.
"It's pretty humbling," he said. "Because Tak was my adviser."
Higuchi, KU's renowned pharmaceutical chemist who was on the KU faculty from 1967 to 1987, was one of two men, in addition to Stella's father, who really influenced his life, he said.
"Tak showed me the way," both professionally and personally, he said.
The award is open to researchers from across the world, and Stella is scheduled to receive it this weekend in Seattle. Ron Borchardt, a fellow KU pharmaceutical chemistry professor who nominated Stella for the award, said the award is given only every three years, and sometimes no winner at all is named.
"Val's accomplishments over the last 38 years or so have mirrored his mentor's," Borchardt said.
He is the inventor or co-inventor on 37 patents that have led to drugs for the treatment of epilepsy, cancer and AIDS, and an anesthetic. He presents his research findings within academia and industry, throughout Europe, Asia and North America, delivering more than 500 invited lectures throughout his career. He has authored, coauthored or edited more than 40 authoritative review articles and seven books over the past 40 years.
Borchardt said Stella's work has been applicable directly to marketable drugs that are making people's lives better, something that can be unusual for an academic scientist.
Ken Audus, dean of the KU School of Pharmacy, is a former student of Stella's who now serves as his boss. He said it was "quite an honor" to have Stella receive the award.
"Val's internationally known, no question about that," Audus said. "And we all appreciate that Tak's spirit lives on through his work."
At the end of the day, however, it's not the awards that are important in a career, Stella said. Those take a back seat to moments such as when a Lawrence surgeon came up to him recently and told him that they had saved a life that day.
A patient on a surgical table had gone into seizures, Stella remembered the doctor telling him, and he was able to administer a drug developed in Stella's laboratory in the late 1970s to help save the patient.
"Getting an award is relatively unimportant," Stella said. "What's important is that we're helping people live longer lives."
Copyright 2018 The Lawrence Journal-World. All rights reserved. This material may not be published, broadcast, rewritten or redistributed. We strive to uphold our values for every story published.