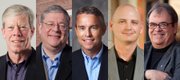 Our special section for the 2011 Lawrence City Commission election has videos, live chats, stories, a straw poll and a candidate selector to help you choose which candidate you're voting for.
When it comes to downtown Lawrence, there's plenty to talk about these days in regard to a host of projects that are happening or are on the drawing board.
For example: an $18 million expansion of the Lawrence Public Library; a $10 million, seven-story office, retail and residential building that is under construction at Ninth and New Hampshire streets; and a proposal to turn a city-owned parking lot near Ninth and Vermont streets into a mixed-use building that might house a long-discussed downtown grocery.
But there's also a project that's not happening and that creates a lot of talk, too. The Lawrence Community Shelter had hoped to be on its way to moving from its downtown location at 10th and Kentucky streets to a new site near the Douglas County Jail. But a recent court ruling in Douglas County District Court has dashed those plans and has sent shelter and City Hall leaders trying to figure out what is next.
The topic is sure to be one that the next commission will consider. Here's a look at what the five candidates vying for three seats on the Lawrence City Commission are saying about the shelter issue and other downtown topics.
Sven Alstrom
Like the rest of the candidates in the field, Alstrom, a Lawrence architect, said he doesn't think the shelter's current location is a good one. Shelter leaders also have conceded that.
But Alstrom is the only candidate in the field who said he would consider keeping it in downtown if an appropriate site were found.
Alstrom also is the candidate who most often has suggested that the shelter should be split into two separate locations: one for homeless families with children and another for those without.
"I think separating the children from the ne'er-do-wells is a good idea," Alstrom said.
He also said the city and the shelter need to be open to locations they haven't yet explored. He said he would want to explore whether there is a closed or partially closed school that could be used to serve as a shelter.
On other issues, Alstrom:
• Would insist on the city being paid fair market value for any city parking lots that developers may want to redevelop. He also wants any redevelopments to provide at least the same number of public spots as are available currently.
• Wants to study ways to provide incentives, such as tax rebates, for downtown property owners to divide their buildings and create smaller retail spaces that could be accessed from the alleys of downtown. He said the smaller back-room shops could serve as low cost startup locations for retailers and would provide the city an incentive to clean up the alleys.
• Is open to the idea of adding another level of parking to the proposed parking garage for the Lawrence Public Library and also would consider adding a transit hub to the project. But he said his support for both items would hinge on further cost estimates and design issues.
• Would support the city taking over ownership of the Santa Fe Depot building just east of downtown even if the city isn't able to acquire grant money to pay for about $600,000 worth of needed repairs.
"It is a lot less risk and exposure than the Farmland site," Alstrom said, referring to a cleanup project the city has undertaken at a former fertilizer plant on the east side of town. "And this a project connected to transportation. With gas prices entering a whole new era, how much longer will it be before we have to start taking the train more?"
Hugh Carter
Carter, a Lawrence financial adviser, believes the city needs to use its permitting process for the homeless shelter to ensure that it stays motivated to move from its current location. City commissioners last Tuesday agreed to extend the shelter's operating permit for a year to give shelter leaders more time to look for a site. Carter said he would have lobbied for a shorter extension.
"I might be inclined to go a little shorter than a year to hold their feet to the fire and make sure we're getting some good reports on it," Carter said.

Carter said he wants to create a sense of urgency for the project but said he's not sure what additional steps the City Commission can take to help the shelter find a new site.
"I'm not sure what resources we have at our disposal to help them in this situation," Carter said. "I know it is hard. There is not an island to put this on. It needs to be accessible to serve its purpose."
On other issues, Carter:
• Said he would "welcome" the opportunity to review plans to redevelop downtown parking lots but said any proposal would have to ensure that the public doesn't lose parking spaces in the deal. He said he would review incentive requests for such projects on a case-by-case basis.
• Would be hesitant to add parking to the proposed library garage, if it would cause the total cost of the library project to exceed $18 million. But he said he wouldn't entirely rule out the possibility.
• Wants more information about the Santa Fe Depot project but said he is not certain that he would be "willing to take the risk" of acquiring the property without first having grant money to rehabilitate it.
Mike Dever
Dever, the owner of a Lawrence-based environmental consulting firm and the lone incumbent in the race, cast one of three votes on the current commission to extend the shelter's operating permit for a year. He said he now wants to look at whether the city can become "more aggressive" in helping the shelter find a new location.
"We have asked the shelter leaders to do what they can to find another site, and so far we've reached an impasse," Dever said. "That may mean the city and the county will need to help them find a solution."
Dever also was one of three to vote to increase the shelter's year-round occupancy from 57 to 81. The shelter had been operating at the 81 level during the winter but was forced to use the smaller occupancy total during warm weather months.
"We have seen the shelter can operate at the increased occupancy," Dever said. "The other option is for people to sleep wherever they can find a place to lie down, and I'm not convinced they are going to be able to find a place to sleep inside."
On other issues, Dever:
• Said he wants more information about how any additional parking or a transit hub at the library project would be funded before "we get too far along with it."
• Is "open" to proposals from the private sector to redevelop city-owned parking lots because he believes increasing density and living units will be important to downtown's future. But he would want at least the same number of public parking spaces to be provided in any new project.
• Said he would be cautious on offering incentives for downtown development. He said he understands vertical construction can be more expensive, which might justify an incentive, but he also said the amenities that already exist downtown should be considered an incentive as well.
• Believes the Santa Fe Depot building has great potential but is concerned that working out a "graceful" transition of ownership of the building will be difficult.
Mike Machell
Machell, a human resources manager for an Overland Park company, said he may have opted to renew the shelter's permit for less than a year in order to create a "driving force" for the shelter to make progress on finding a new site. He also said he wants the city and the shelter to work closely together on the project but doesn't believe the city should take over the process.
"I definitely think the City Commission and the Planning Department need to partner on this, but I don't know that it is the city's responsibility to find the right spot for the shelter," Machell said.
But he said he isn't questioning the need for a shelter in the community.
"I don't like to make value judgments on why people are homeless," Machell said. "We are a caring community, and we want to do right by people. The problem is not going to go away. We need to address it, but downtown is not the right location."
On other issues, Machell:
• Said he's supportive of considering adding new parking and a transit hub to the library project because it likely would be cheaper to do it now than later. But Machell, who is the chairman of the city's Library Board, said the review process would need to involve a lot of public input.
• Said he wants to develop a cost-benefit model to evaluate any future requests to redevelop city-owned parking lots. He said he would consider such projects if it could be clearly shown the city was "gaining more than it was giving."
• Believes the city should not take over the Santa Fe Depot at this point. He said he likes the potential of the building but is concerned about taking over ownership of the building before grant money can be secured. He's also concerned about possible environmental liability issues the city could be assuming.
"I think putting a lot of resources into the depot would be going down the wrong track right now," Machell said.
Bob Schumm
Schumm, a downtown restaurant owner and former Lawrence mayor, said downtown is a "very poor fit" for a homeless shelter. He also said he thinks the city's efforts to help the shelter find a new location haven't always been up to par.
"The city can take more of a leadership role in helping the Lawrence Community Shelter," Schumm said. "I think that has been lacking in the past. There has been friction between the city and the shelter at times. The responsibility of providing a shelter has fallen on the shelter's shoulders, but it is really not their problem. It is a community problem."
Schumm also said he wants to take another look to see if the legal issues surrounding the proposed site near the Douglas County Jail can be resolved.
On other issues, Schumm:
• Said he doesn't think the library site is large enough to accommodate a possible transit hub, but he does want to explore ways to add more parking to the library project.
• Believes redevelopment of city parking lots could help downtown by increasing its density and number of living units. But he said the city would either need to be paid well for the use of the property or be assured that it would gain a significant number of new parking spaces out of any deal.
• Wants the Santa Fe Depot to become an important public building but would have to take a "hard look" at taking over ownership of the building without first having grant money to pay for the repairs.
• Wants the city to more consistently use police officer foot patrols downtown.
"We go through phases of having foot patrol and then we don't see them for long periods of time," Schumm said. "When the foot patrol is out, people just feel safe."
Copyright 2018 The Lawrence Journal-World. All rights reserved. This material may not be published, broadcast, rewritten or redistributed. We strive to uphold our values for every story published.