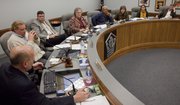 Consensus is spreading.
The Lawrence Elementary School Facility Vision Task Force's consensus plan — close one school next year, then consolidate six schools into three or four within the next three to five years — picked up support Monday night from some key constituencies:
• Several members of the Lawrence school board, the group that formed the task force last year and will be responsible for implementing or adjusting its recommendations in the coming weeks and months.
• An increasing number of influential members of the former Save Our Neighborhood Schools advocacy group, whose opposition to closure initiatives last year led to formation of the task force.
• And even at least one parent of children at Wakarusa Valley School, which would close next year if the board follows through with the task force's recommendations.
"I'm not here to change your mind," said Dean Dunlap, a father of eight who lives just southeast of Clinton Lake, about a mile from the school. "I would have come to the same conclusion. I'm willing to take, or bite, the bullet. I understand the situation now."
While the acceptance is far from unanimous — 19 people spoke up during Monday night's board meeting, including at least eight criticizing the possibility of Pinckney School being closed — the recommendations forged after eight months of task force work are showing signs of gaining traction at district headquarters. A formal public hearing is set for March 28 to consider whether to close Wakarusa Valley.
Consolidations
Mark Bradford, the board's vice president, said that work needed to start soon on plans to consolidate schools, and not just because the district faces an estimated $3 million decline in revenue for the next school year.
Six schools — Cordley, Hillcrest, Kennedy, New York, Pinckney and Sunset Hill — have been identified by the task force as candidates for consolidation, to become either three or four schools within three to five years.
A bond issue should be sought to finance construction of new or expanded schools to accommodate consolidation, and to upgrade other elementary schools throughout the district, the task force said. All affected school communities should be given a voice in helping shape the plan that goes to the board for approval, for submission to voters.
Bradford, who is in line to become board president in July, figures that the task force's vision makes sense as a way to pursue a long-term vision.
"I want to use that as a road map to move forward," said Bradford, after the meeting. "I personally don't think that we need to close schools to address the budget side of things."
Marlene Merrill, a board member seeking re-election April 5, embraced the consolidation recommendation as a "basis" for starting a dialogue, especially with stakeholders who could be affected.
"Then you're going to end up with a better decision," she said.
Board member Scott Morgan, who served as co-chair of the task force and is not seeking re-election, said that he would be willing to hold off pushing for added school closures next year if and only if he could be assured that the district was moving toward a sustainable plan. And that would mean consolidating schools.
The district could get by for the next year or two by dipping into contingency funds to prevent closing multiple schools, he said, so that a viable bond issue could be planned, pursued and passed.
"You have a path," he told fellow board members. "It is a workable one. You can put the bond issue together and move forward."
Community stake
Chuck Epp, who participated in Save Our Neighborhood Schools efforts a year ago, strongly urged board members to "honor" the task force's "very specific" recommendations: close no more than one school for next year, and "develop a community process to plan consolidation of elementary schools" in east and central Lawrence.
If the board doesn't "play fair," he said, a bond issue would be doomed to defeat as the district would lose much of the trust and community support built up by the task force and its diverse, community-minded members.
"Many of us want to be for something, not just against closing schools," Epp said. "If you continue to build a community process in favor of new elementary school resources — and, yes, consolidation — you will be joined by a large cross-section of Lawrence. I just don't think that will be possible if you start this process off on the wrong foot by closing several schools now."
Copyright 2018 The Lawrence Journal-World. All rights reserved. This material may not be published, broadcast, rewritten or redistributed. We strive to uphold our values for every story published.