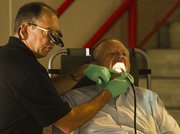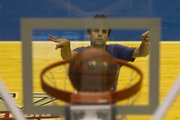 Lawrence resident Craig McCauley browsed from booth to booth Sunday afternoon at the inaugural Hoops for Men's Health event at Allen Fieldhouse.
McCauley checked his blood pressure and oral health, and received recommendations for local physicians. His family made him go, McCauley said, admitting to a strong aversion to annual checkups.
"I'm horrible about going to doctors," said McCauley, a vocal music teacher at West Middle School. But he said Sunday's event was a fun way to take some time and focus on "regearing" his health plan.
And it's that occasional health "regearing" that men sometimes need more than women, said Kathy Clausing-Willis, vice president of Lawrence Memorial Hospital.
"We need you to be healthy," said Clausing-Willis, adding that the women in a man's life are often the peer pressure that gets them to make important health changes.
Numerous health screenings were offered free of charge, including blood pressure and glucose checks, body fat analysis, and even consultation in how to strengthen a golf swing. During a luncheon at the fieldhouse, Kansas University athletic director Sheahon Zenger provided encouragement for men looking to improve their health.
Sunday's event also used a bit of trickery to increase attendance, as Clausing-Willis said organizers used the competitive nature of American men to their advantage. Many showed up Sunday for the free throw contest, where teams of four competed. The hoops at the fieldhouse were filling up all afternoon, and proceeds from the $25 entry fees benefit the LMH Endowment Association.
Copyright 2018 The Lawrence Journal-World. All rights reserved. This material may not be published, broadcast, rewritten or redistributed. We strive to uphold our values for every story published.