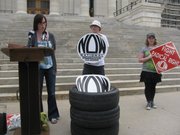 Topeka — The Kansas chapter of the National Organization for Women has written Gov. Sam Brownback, asking for an apology because of what the group said was harassment from Capitol police during a recent news conference about a legislator's statements related to an abortion bill.
"Your security's confused, erratic and bullish behavior at the Capitol Building in Topeka was unacceptable," Kari Ann Rinker, state coordinator for Kansas NOW, said in a letter.
On June 1, Rinker had taken three used tires to the Capitol as props to protest remarks made by state Rep. Pete DeGraaf, R-Mulvane.
During House debate in May on a bill that would prohibit insurance companies from covering abortion procedures for victims of rape or incest, unless they purchase a separate abortion insurance policy in advance, DeGraaf said women needed to plan ahead and mentioned he carried a spare tire in case his car gets a flat.
Kansas NOW has called on DeGraaf to apologize, but he has refused. He has said his comments were taken out of context, but he has declined to say how.
The bill was approved by the Legislature and signed into law by Brownback.
Rinker said she had called Capitol police and was cleared to bring the tires into the building during the final day of the legislative session. But as she set up outside the House chamber, an officer confiscated the tires.
She got the tires back and then placed them outside the building on the south steps for a news conference. Capitol police arrived and ordered her to remove them, but, after several minutes of discussion, they relented, she said. She then held the news conference.
"Freedom of speech is a guarantee to all citizens, even those with whom the current administration may disagree," Rinker said in her letter. "I am requesting that an apology for this treatment be provided to me and my organization."
The governor's office did not comment on Rinker's letter.
Copyright 2018 The Lawrence Journal-World. All rights reserved. This material may not be published, broadcast, rewritten or redistributed. We strive to uphold our values for every story published.