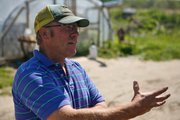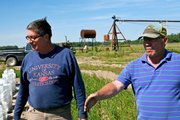 To plant and grow his 1,000 acres of corn and 1,000 acres of soybeans, Baldwin City farmer Mike Wintermantel will spend about $50,000 on fuel this year. And that's OK with him.
"We hope (fuel) prices stay high," Wintermantel said. "It's kind of odd, but that's the truth."
For Wintermantel and other commodity farmers, high fuel prices often lead to high corn and soybean prices and a greater profit.
But eight miles northeast of Lawrence, fourth-generation produce farmer Mike Garrett tells a different story. Garrett's family farm has survived floods, droughts and the Great Depression. Now he must find a way to survive rising fuel costs. To remain viable, Garrett has combined his operation with his neighbor, Richard Brauer. Together they share expertise, contacts and 120 acres of sandy soil near the Kaw River to plant melons, tomatoes and other fruits and vegetables.
"It's a lot better us working together than butting heads," Garrett said.
High gas prices might provide a windfall for many commodity farmers, but have made life difficult for smaller food producers.
Douglas County Extension Director Bill Wood said ethanol, a biofuel gasoline-alternative made from corn, accounts for these two different story lines.
"When gas prices go up, so does ethanol demand," he said. "The ethanol manufacturers can pay more for their corn and still keep their businesses in shape."
According to the USDA, 41 percent or 5 billion bushels of last year's corn crop was used in ethanol production, a 9 percent increase from 2009.
Wood said feeding ethanol production growth has increased corn prices.
According to the National Agricultural Statistics Service, corn prices have risen from an average of $3.50 a bushel in 2009 to an average of $6 a bushel this year, prompting farmers to plant nearly 4 million more acres of corn than in 2010, an increase of 4.5 percent.
"When you get twice as much money as you got two years ago, that helps your inflow of cash," Wood said.
And Wintermantel, who rents most of the 2,000 acres he farms, will need a good inflow of cash. He said fuel, fertilizer and machinery prices have increased this year, ballooning his planting and growing costs to a record $500,000. Wintermantel said he needs corn prices to remain above $4 per bushel to allow him to break even.
However, produce farmers Garrett and Brauer said that their buyers at farmers markets and groceries have offered no price increase to cushion them from rising fuel costs. This has limited the scope of their operation.
Before gasoline prices increased they would drive pickup trucks full of watermelons or tomatoes twice a week to buyers as far away as St. Joseph, Mo. Now they try to stay within about 30 miles of their farm, and limit longer trips to once a week. Limiting their selling radius also limits the number of buyers.
To save money, they do not run their large irrigator unless the crops are in dire need of moisture. And Brauer tries to limit even the smallest of trips.
"I mean I used to go into town once in a while to have a Coke," Brauer said. "Now I just stay here. I have some in the fridge."
Garrett and Brauer are not the only ones who will feel the pinch. Consumers are as well.
Kansas University economics professor Donna Ginther expects to see food prices increase. Ginther said more farmers switching to corn and producing non-food products such as ethanol will decrease food production and raise food prices. Stores will have to pay more for the products they sell, as well as higher transportation costs.
"If stores have to pay more, they will pass those costs along," Ginther said. "They are into passing on additional prices if they can."
Far away from the grocery stores, Garrett and Brauer as well as Wintermantel must now wait and watch fuel prices.
Wintermantel needs gas prices to stay high to profit from his corn crop.
Garrett and Brauer wish prices would go down so they could expand their operation. Regardless, they will adapt. This year they have planted 40 acres of melons, wagering that high transportation costs will allow them to undercut larger out-of-state melon farms.
While Garrett and Brauer's experience with the fuel price increase varies drastically from Wintermantel's, all the farmers agree that weather, crop prices and fuel costs make farming and making a living a game of chance.
"It's a gamble," Garrett said. "Too bad we can't afford to go to Las Vegas."
Copyright 2018 The Lawrence Journal-World. All rights reserved. This material may not be published, broadcast, rewritten or redistributed. We strive to uphold our values for every story published.