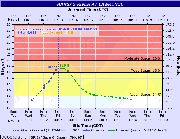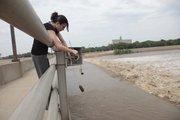 Photo Gallery
Kansas River spills over its banks, floods parks
The Kansas River reached flood stage in Lawrence Friday morning but the water level is expected to decline tonight or Saturday morning, according to officials at Douglas County Emergency Management. However, the flood warning will remain in effect until Saturday afternoon.
On Friday morning, Lawrence city leaders closed Burcham Park, Riverfront Park, as well as the lower portions of Constant Park, because the Kansas River breached its banks. At 10:30 a.m., the Kansas River was at 18 feet 4.2 inches, with a projected crest of 18 feet 7 inches later Friday or Saturday morning.
At that height, Burcham Park on the south side of the river and lowlands on the north side of the river outside the levee would likely see flooding.
The Kansas River at Lecompton has also reached its flood stage level of 17 feet. The river is currently above 18 feet, but is expected to start declining today, according to the National Weather Service.
Jillian Rodrigue, assistant director of Douglas County Emergency Management, warned of possible flash flooding on roads and urged residents to monitor local media outlets and weather radios in case the forecast changes. She said people shouldn't go down to the river or play in flood waters, as the river banks can become unstable during a flood.
Douglas County Emergency Management sends out frequent updates on Twitter @dgcoem.
Copyright 2018 The Lawrence Journal-World. All rights reserved. This material may not be published, broadcast, rewritten or redistributed. We strive to uphold our values for every story published.