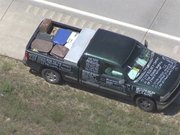 Topeka — A 50-year-old Arkansas man was arrested Monday after a hazardous materials investigation involving the FBI that prompted authorities to close a 20-mile stretch of Interstate 70 for several hours.
All lanes of the highway had reopened by 10:30 p.m. CDT, nearly eight hours after the stretch was closed.
FBI spokeswoman Bridget Patton said the bureau's hazardous materials vehicle was sent to the scene at the request of Kansas officials, but preliminary tests found no explosive threats or suspicious materials.
Police in Junction City, about 60 miles west of Topeka, said the incident began when someone called 911 at midmorning Monday saying hazardous materials had been placed in a room at a Ramada Inn and the FBI should be called. The motel was evacuated while fire and hazardous material crews investigated.
Police issued a description of a suspect and vehicle, and the Highway Patrol stopped a pickup truck on I-70 west of Topeka. While the suspect was returned to Junction City for questioning by police and the FBI, the interstate was closed in both directions to keep other vehicles away as authorities prepared to inspect the truck.
Aerial views from TV news helicopters late Monday afternoon showed a robot approaching the truck, its bed packed with containers of various sizes.
The state Transportation Department said the highway's closing extended from the Kansas 4 exit just west of Topeka to the Kansas 99 exit in Wabaunsee County. Traffic was rerouted onto Kansas 99 and U.S. 24.
Copyright 2018 The Associated Press. All rights reserved. This material may not be published, broadcast, rewritten or redistributed. We strive to uphold our values for every story published.