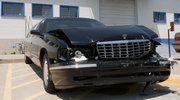 You get in an accident in Douglas County and need a tow truck but don't have a preference on which towing company to call. No problem. Douglas County emergency dispatchers can call one for you from a rotating list of services.
The tow truck arrives and hooks up your vehicle, cleans the scene and tows it to its company lot.
Call the next day — and surprise — for some services it'll cost you $800 or more to claim your vehicle. The tow charge might have been only $250, but at least one company tacks on mileage, cleanup and labor charges.
Don't have $800? No problem, the service can keep your vehicle and auction it off later.
Outraged?
Tough luck, it's legal.
It's a scenario that happened to Ray Bloxsom.
Bloxsom got into an accident on Kentucky Street recently, and Midwest Tow and Recovery was called by county dispatch to assist.
Midwest towed his car — a limousine Bloxsom uses for a taxi business — to the company's lot on Ponderosa Drive, about three miles away.
When Bloxsom called about getting his limo back, he said he couldn't believe the price tag for the service: $675 total, including $275 for towing, $150 for labor, $125 for mileage, and $125 for cleanup, according to a receipt Bloxsom showed the Journal-World.
"I was robbed," said Bloxsom, an 18-year Lawrence resident. "This is just not acceptable in Lawrence."
'No regulation'
While Bloxsom thinks he was overcharged, the truth is, legally, a towing company could have charged Bloxsom anything it wanted, said Tom Whitaker, executive director of the Kansas Motor Carriers Association.
"There is no regulation," he said, citing a 1995 federal law that prohibits states from putting limits on towing charges.
Even the county has its hands tied, said Craig Weinaug, Douglas County administrator.
County dispatchers call towing companies on a rotating basis when someone says they have no preference on which company is called. Weinaug said the county, by federal regulation, is required to let a company that meets some basic requirements be on the call list, which includes 11 services.
The county has no power to take a company off the list even if they get complaints, and they have no power to set pricing limits, he said.
"We have no discretion for who is on that list," said Weinaug, adding that it's a common problem across the country. "I've dealt with this everywhere I've worked."
What should you pay?
At Bryant Collision, 1214 E. 23rd St., owner Mike Bryant shows a collection of highly priced towing bills he's kept from customers. The bills show that Bloxsom's experience isn't unusual or confined to the Midwest. Several bills from a variety of towing companies list tow charges ranging up to $900.
"They just can't believe it," said Bryant of the customer reaction he often hears.
But it gets worse, explains Bryant.
If a customer can't pay the bill, the towing company can keep the vehicle and sell it later at a public auction, though they must abide stipulations in the Kansas Tow and Recovery Lien Law.
The law requires towing companies to verify who the owner of the vehicle is, as well as notify the owner within 30 days that the vehicle will be auctioned if the owner doesn't pay the towing charges. The charges also grow, as companies charge a daily storage rate — usually $30 to $50 each day.
In some cases, the tow bill and the repair charges amount to more than the value of the car, and it gets classified as "totaled," Bryant said.
In other cases, people whose insurance covers towing might get overcharged, but the bill is passed on to the insurance company.
And if it gets to the insurance company, it's difficult to determine when overcharging occurs, said Tamara O'Connor, a spokeswoman for State Farm Insurance.
"There's no definition of what is excessive and what is not," she said. "It's a pretty unregulated industry."
Calls to several local towing companies quoted prices for an accident tow between $145 and $250. Jerry Taylor, owner of Hillcrest Towing, said his company would probably not have added the extra fees charged to Bloxsom, and the service would have cost its standard towing charge of $145.
Owners of several companies said they normally don't charge extra for mileage for in-town tows, and when they do charge for mileage, a typical rate is several dollars per mile. Bloxsom's $125 charge amounts to nearly $42 a mile.
The Journal-World contacted Midwest about Bloxsom's vehicle and asked to speak to the owner. A man, who would not identify himself, answered and said Bloxsom's case had been settled. The unidentified man would not discuss further details of the case.
Solutions
The best way to avoid getting overcharged, said Weinaug, is to not leave it up to chance when you need a tow. He suggests finding a towing company with a good reputation before you need one and request that dispatch call that company if you're in an accident.
You can also try to negotiate a rate with the company before the car is towed.
But if you've already been towed, you're out of luck; that's something Bloxsom learned the hard way.
After trying to negotiate a lower rate for several days, Bloxsom said the owner threatened to auction his vehicle if he didn't pay. Bloxsom relented and paid a slightly reduced charge — $600 — to get his car back.
"I had to," Bloxsom said.
When the towing company released his vehicle, Bloxsom called a different towing company to take it across town to a mechanic. The charge? $30.
Copyright 2018 The Lawrence Journal-World. All rights reserved. This material may not be published, broadcast, rewritten or redistributed. We strive to uphold our values for every story published.