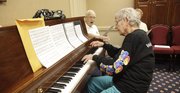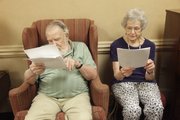 Roberta Spires said she started the singing club for Kansas University's Endacott Society for retired faculty and staff because she saw the way singing made people feel.
It's a way to escape thoughts about Medicare or Social Security benefits, she said, or a whole host of other problems in the world.
"They're happy," she said. "And they don't worry. It's too bad the whole world can't just sit down and sing."
KU's Endacott Society isn't something you find on many other campuses, said Bruce Linton, a retired journalism and film professor who served as the group's president last year. It's open to spouses, too.
About 400 people are eligible for membership, and about 100 attend events regularly, Linton said.
It has its own budget, through an endowed fund and membership fees. Members of the KU Alumni Association can also designate money to go to the society, Linton said.
Most of the activities are at the Adams Alumni Center, where staff members will reserve space for the retirees' activities.
"We're pretty unique, especially in terms of the way we operate," Linton said.
The club launched in 1983 with the help of Paul Endacott, a former KU basketball All-American and a 1923 engineering graduate of the university who went on to become the president of the Phillips Petroleum Co.
He worked with fellow donors and planners of the Adams Alumni Center to ensure that retirees would have access to the space for their activities.
"He always felt there should be a place where retired faculty and staff of the university could be able to get together and keep their minds focused in various ways," Linton said.
They have a whole variety of activities — a computer class for people who want to be come more digitally literate, a gardening club and monthly coffees.
There's a classical movie night, too. An upcoming film will feature Rosalind Russell, Linton said. A drama group gets together and reads scripts from old plays.
And as for the singers, they meet monthly in the Adams Alumni Center, and Thursday's meeting had a patriotic theme for the Independence Day holiday. They sang "The Star-Spangled Banner," the first verse and the last one, too, along with other traditional tunes.
But they usually sing all kinds of old songs.
Jay Alexander, a 71-year-old retired history professor, said he enjoyed singing the old songs, particularly the Cole Porters.
"I'm not particularly musical," he said. "But I like singing."
He said he enjoyed the memories that singing evoked. It took him back to a different time when his parents would sing songs at the end of parties.
Spires has compiled pages and pages of music and lyrics for the group. She's got hundreds and hundreds of songs. Many hark back to another era — "Polly Wolly Doodle," "Hello My Baby" and "Danny Boy," for example.
"I haven't sang some of these songs in ages," he said.
Copyright 2018 The Lawrence Journal-World. All rights reserved. This material may not be published, broadcast, rewritten or redistributed. We strive to uphold our values for every story published.