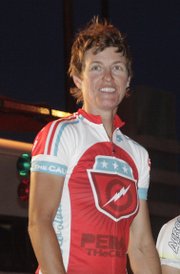 Photo Gallery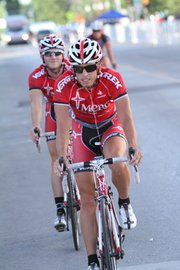 Friday night's Tour of Lawrence
Hundreds turned out in Downtown Lawrence to watch the opening night of the Tour of Lawrence, which included live music and street sprints.
At the beginning of Friday night, 22-year-old Andrew Dahlheim just wanted to make the final heat in the street sprints, Friday's event in the Tour of Lawrence.
Dahlheim, from Austin, Texas, isn't the sprinter type, so cracking the final five racers like he did last year would've been acceptable.
But after surviving four heats and edging last year's champion, Josh Carter, near the finishing stripe of the 200-meter chute in the final heat, Dahlheim seized the title.
"I just tried to stay consistent and keep advancing," Dahlheim said. "I'm really happy."
Dahlheim placed third in last year's sprints race but was able to top more than 60 other cyclists Friday.
On the women's side, Carrie Cash Wootten won her second consecutive title, holding off the other 16 women in the field.
That makes three of the last four Tour of Lawrence titles for Wootten, as she also won last year's Downtown Criterium.
In 2010, the sprints race was held on Seventh Street between Kentucky and Massachusetts streets, which presented riders with a bit of an uphill climb.
This year's sprint took place on New Hampshire Street between Seventh and Eighth streets, which created a somewhat downhill ride.
Despite winning this year's sprints and placing third in 2010, Dahlheim said he liked last year's course better because it isn't a "pure" sprint.
Dahlheim might not have even won had Carter not slipped out of his pedal in the final stretch.
Dahlheim's legs didn't have much time to refresh — he was scheduled to pick up his girlfriend from Kansas City International Airport early this morning.
He won't race in today's Kansas University Campus Circuit until around 5:30 p.m., though.
"I have plenty of time to get coffee in the morning," Dahlheim said.
He won the campus race last year, but Dahlheim said he doesn't think he is in good enough shape to repeat.
In fact, he nearly decided to stay in Austin to rest and play golf.
"But I enter every race to win, so that's going to be my objective," Dahlheim said.
The campus race begins at 8:30 a.m. with the Masters 40+ race category. Heats run all day, capped by the women's professional race at 4 and the men's professional race at 5:30.
Riders start at Wescoe Hall and wind their way through the hilly campus, finishing back at Wescoe.
Copyright 2018 The Lawrence Journal-World. All rights reserved. This material may not be published, broadcast, rewritten or redistributed. We strive to uphold our values for every story published.