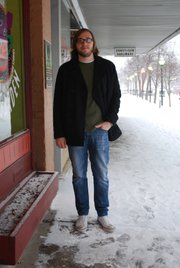 Name: Beau Bruns
Age: 26
Sign: Pisces
Occupation: Musician/Best Buy Home Theater Salesman
Hometown: Oskaloosa, KS
Time in Lawrence: 4 years
What were you doing when you were scouted? Looking for records at Love Garden.
How would you describe your style? I figured out a while ago that I'm kind of a jeans and t-shirt guy.
What are your current favorite fashion trends? Crazy looking shoes -- Nike, Converse, and adidas.
What are your least favorite fashion trends? Girls in sweatpants.

What would you like to see more of in Lawrence? Food carts!!
What would you like to see less of in Lawrence? Parking tickets.
Do you have any piercings/tattoos? I have two tattoos.
Do you have any fashion influences? Not really — I know what I like.
People say I look like... Musicians Ben Gibbard of Death Cab for Cutie and Colin Meloy of The Decemberists.
Tell us a secret: My favorite band is Dream Theater.
Copyright 2018 The Lawrence Journal-World. All rights reserved. This material may not be published, broadcast, rewritten or redistributed. We strive to uphold our values for every story published.